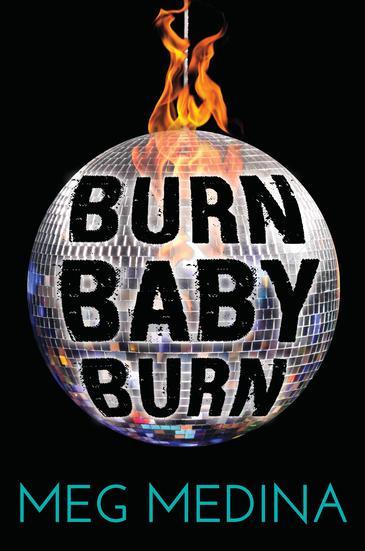 Meg Medina, Burn Baby Burn,  Candlewick Press/Walker Books Australia,  1 June 2016,  310pp.,  $24.99 (hbk),  ISBN 9780763674670
1977, New York. The Son of Sam serial killings haunt everyone's lives. The familiar streets of Nora's neighbourhood are suddenly full of places where Son of Sam might be hiding with his .44. Worse than that threat, though, is Nora's home situation where her mother has just lost her job and her brother Hector's violence is becoming routine. At 16, Hector is out of control, abusing his mother, stealing, and taking drugs. Nora keeps her home life a secret from best friend Kathleen and the gorgeous Pablo, ashamed of her poverty-stricken circumstances and that her struggling mother and absent father haven't been able to stop Hector's decline. As the Son of Sam takes more victims, the city around Nora disintegrates with looters destroying local businesses when the power fails. The ugly truth about Hector's violent lifestyle becomes apparent to everyone, including Kathleen and Pablo. In quick succession, Hector is arrested, Son of Sam is found, and Nora seizes her chance to improve her life, and moves out of home to go to college.
This book is atmospheric and pacey. Nora's predicament is heart-wrenching, but Medina has developed a feisty character that has to make very tough decisions in order to take control of her life. The other characters – Kathleen and her warm, supportive family; activist Stiller; the deli owner Sal – are well-developed and add to the richness of the story. 1977 is strongly painted by references to popular music, cars, local neighbourhoods and, of course, the real life crimes of Son of Sam. The novel could have become an angst-ridden disaster story, but instead it reveals a strength – of character, of location, of past times – that is forward-focused and inspiring. Highly recommended.
Reviewed by Pam Harvey