Byll and Beth Stephen (text) and Simon Howe (illustrator), Boss of Your Own Body, HarperCollins Publishers, December 2021, 24 pp., RRP $19.99 (hbk), ISBN 9780733341724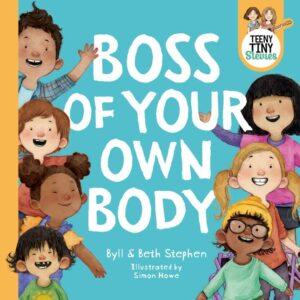 This fun and insightful book about body autonomy is a spinoff from the song, Boss of My Own Body, written by the ARIA award winning Teeny Tiny Stevies, a popular musical duo who sing thoughtful songs for little people. It is a joyful romp through a child's day with all the decisions that can come their way.
Bright and colourful, we are greeted by a bevy of smiling grins on the cover. The delightful illustrations are a feast of colour and action, portraying a diverse range of littlies at times when it is best to follow rules, and times when they can choose for themselves. On the pages where the children are being the boss, they sport cool sunnies to reinforce the differentiation. The text takes us through lots of situations at home and at school with a gentle reminder that it's not okay to be bossy, but… you are the boss of your own body and have the ability to make safe and helpful choices and also to stand up for yourself.
I recommend this book to ages 3 years and up and as well as the accompanying song/video. What a great opportunity to have a meaningful discussion in a fun way!
Reviewed by Sharon Seymour