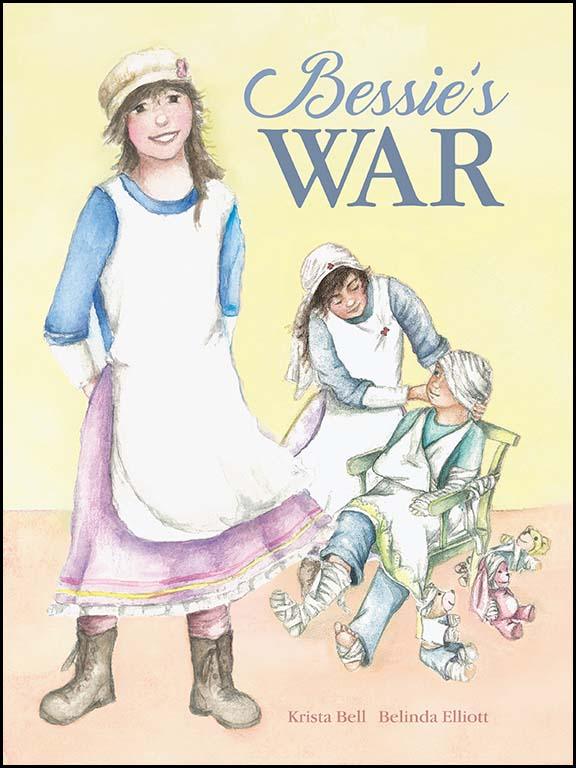 Krista Bell (text),  Belinda Elliott (illus.),  Bessie's War,  Windy Hollow Books,  1 May 2017,  32pp.,  $25.99 (hbk),  ISBN: 9781922081667
The world is at war. All the men in the family are off in Europe having grand adventures while Bessie remains behind. She doesn't like it. How can a 13-year-old girl help the soldiers win the war?
One night, as she listens to her mother reading a letter from her brother, Frank, Bessie realises how she can make a difference. Inspired by her idea, Bessie soon enlists her entire class in working to support the soldiers.
Bessie's War is a non-confronting introduction to wartime issues. It would be a valuable classroom resource for lower primary students studying Australia's involvement in World War One. Bessie's War provides opportunity for discussion of a range of wartime topics – from helping the war effort from home, to some of the issues faced by those left behind. It also touches on misconceptions about the adventurous life of a front-line soldier and some of the hardships they faced.
Krista Bell's language captures the frustrations and joy of Bessie as she seeks to make her own contributions to the war effort. The watercolour illustrations by Belinda Elliot reflect the time period and, given the subject matter, are appropriately non-threatening or scary for young children.
Bessie's War is a companion volume to Jack's Bugle published in 2014.
Reviewed by Fiona Miller-Stevens