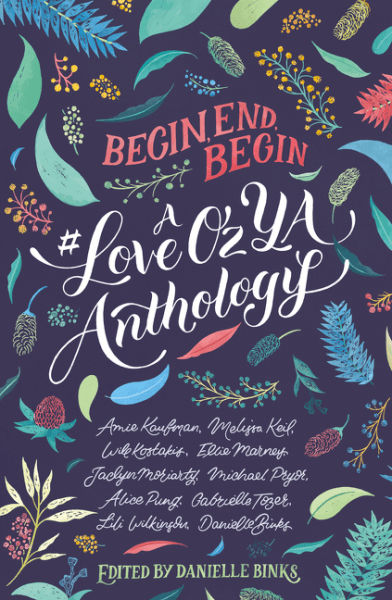 Amie Kaufman, Melissa Keil, Will Kostakis, Ellie Marney, Jaclyn Moriarty, Michael Pryor, Alice Pung, Gabrielle Tozer and Lili Wilkinson, Danielle Binks (editor),  Begin, End, Begin: A #LoveOzYA Anthology,  HarperCollins Australia,  1 May 2017,  336pp.,  $24.99 (pbk),  ISBN: 9781460752319
This is a thoughtful selection of ten stories ranges widely across the spectrum of current teen concerns and written in a variety of styles. Each is well crafted as every contributor is adept at creating a believable YA voice and, while the settings, times and circumstances vary, they are all firmly about what it is to be a teenager today.
The opening story, One Small Step by Amie Kaufman is a conventional love story in outline. Two people find out and acknowledge that they have romantic feelings for one another. The twist here is that the story is set on Mars and the two people are both girls. Will Kostakis gets quite serious about how to live your life in I Can See the Ending about a psychic boy who can see his future.  The next story, In a Heartbeat, written as a letter to her unborn child, tells of the life changing decision made by a pregnant teenager in the face of social pressures. In First Casualty Michael Pryor turns a routine space story into a heavy message about our treatment of refugees. Melissa Keil, in Sundays, shows the impact on a group of friends when a couple in their circle break up. Missing Persons by Ellie Marney describes the loneliness of home-schooled girl going to high school for the first time. Lili Wilkinson tries, but doesn't quite succeed, at horror and suspense when two girls go underground to find out who will be their true love in Oona Underground. The Feeling from Over Here by Gabrielle Tozer is an intense take on the long term effects of bullying. Last Night at the Mount Solemn Observatory by Danielle Binks is a moving account of all the conflicting emotions that come with leaving home to enter the big wide world. The anthology ends with what I consider to be the best story – Competition Entry #349 by Jaclyn Moriarty. It is a hilarious screwball comedy of girl meets boy, their first kiss and time travel.
So yes, this collection is a definite plus to have in a high school library. It is a wonderful way to become acquainted with some of the best writers of YA fiction today. The section at the end 'About the Authors' gives a brief introduction to each writer and lists their publications for those who want to read more. Recommended.
A Teaching Guide is available on the HarperCollins website.
Reviewed by Mia Macrossan