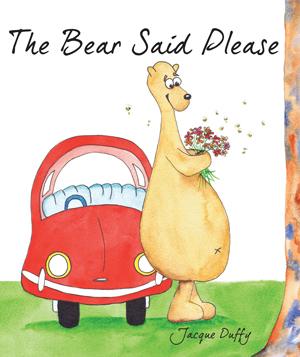 DUFFY, Jacque The Bear Said Please Wombat, 2014 unpaged $18.99 ISBN 9781921632945 SCIS 1656612
Waking up with a growling tummy, the bear decides he needs some…honey of course.  He searches high and low and all around, to no avail.  What does he need?  He needs to find a hive!  Off he goes in his red car, to the forest where he quickly locates a hive of bees and proceeds to help himself to their honey.  The feisty bees, however, will have none of these bad manners and he is soon persuaded, roughly, that it is better to ask nicely, then others will be happy to share with you.
The simple rhyming text of this attractive picture book reads well aloud, inviting participation and encouraging prediction, and perfectly matches the appealing cartoonish illustrations.  Even the bees have expressive little faces, amusingly showing their feelings towards the interloper.  The design is clean and full of pleasing surprises, amusing use of perspective and text positioning.  Themes of manners, hunger, searching for objects and sharing with generosity are treated with humour, making this little book ideal for ages 3+.  Teacher notes are available.
reviewed by Joy Steward