Tony Wilson (text), Laura Wood (illustrator), Baa Baa Blue Sheep, Scholastic Press, July 2019, 32 pp., RRP. $17.99 (hbk), ISBN 9781760666446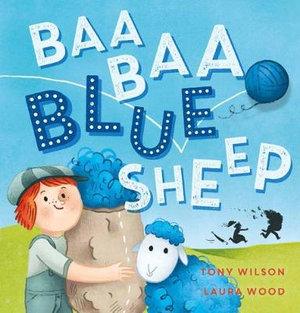 A respectful nod to the old nursery rhyme; adopting a modern take on our embracement of 'colour', but remaining true to the classic song we all know and love. Award-winning team, author Tony Wilson and illustrator Laura Wood of 'The Cow Tripped Over the Moon' and 'Hickory Dickory Dash' fame, once again win us over with this humorous twist; 'Baa Baa Blue Sheep'.
It's a counting-down fiasco of multi-coloured proportions when the master and the dame brawl over every bag of wool, claiming each colour to be best suited to them. In a hilarious rhyming frenzy, they address each colour sheep, adapted from the well-known phrase, "Baa, baa, blue sheep, have you any wool?", in which the sheep responds, "Yes sir, yes sir, nine bags full." Bright and bold imaginations take flight as master and dame fancy themselves in each coloured daydream, pronouncing that all the wool (of diminishing quotas) must be theirs, and theirs alone. Eventually their squabbling stops at three black bags full when the boy who lives down the lane stops them and demands them to share.
With vivacious illustrations that boast comically irrational antics, here is yet another classic that will have pre-schoolers sewn up in woolly stitches from top to bottom. A wonderful re-adaption to share with our youngsters with the added themes on sharing, farming and treating each other and their belongings with respect. Highly recommended.
Reviewed by Romi Sharp