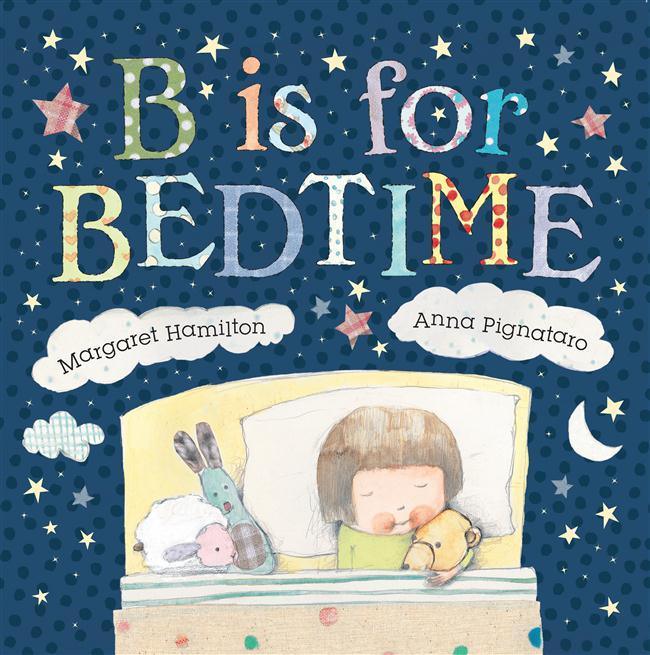 HAMILTON, Margaret (text) Anna Pignataro (illus.) B is for Bedtime Little Hare, 2014 unpaged A$24.95 NZ$26.99 ISBN 9781921894343 SCIS 1650786
B is for Bedtime, Margaret Hamilton's first picture book, with its leisurely, rhyming text and its delightful illustrations in Anna Pignataro's characteristic style is a quiet meander through the ABC on the way to bedtime.  From being Awake after tea, the little girl and her Dog progress happily through the bedtime routine, Book with Dad, snuggling in Eiderdown, Gran's Hugs, Mum's Kisses, Pyjamas, Teddy, relaXing Under the covers, Whispered prayers to Z…z…z.  Each letter is presented in upper and lower case, and the vocabulary is full of interesting words, augmented by images to seek and name.
Anna Pignataro's illustrations are charming, as always, in beautiful pastel colours, employing water-colour, pencil, gouache and collage using vintage fabric and felt.  The endpapers are a delight, busy with images used throughout the book on a crisp white field.  Beautifully designed, with well-spaced text on an expansive white background, each page has a number of images to find, name and talk about.  This beautifully produced ABC book should prove a great favourite from toddlers to grannies.
reviewed by Joy Steward