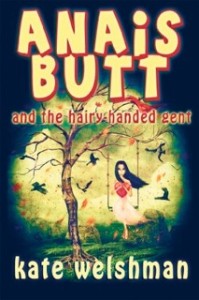 WELSHMAN, Kate Anais Butt and the Hairy Handed Gent TWCS Pub House, 2013 155pp $17.99 pbk ISBN 9781612131870 SCIS 1639729
There are a number of unconventional things about this book, its size for one and its title.  Although it doesn't look like your typical young adult novel, its title is a good indicator of the tenor of the story in this coming of age, romance/mystery with a touch of the paranormal and a big dose of tongue-in-cheek humour.
Seventeen year old Anais has just been expelled from her fifth boarding school in three years and her parents have decided she needs a bit of tough love to help her through these difficult teenage years.  She is banished to the country town of Glenorie to stay with her 'child-hating maternal grandmother, Nanny Pam' and equally unfriendly cousin Josephine to help with the running of the riding school.  The problem is Anais knows nothing about horses and can't ride.  She also doesn't like her grandmother or morose cousin.
Into this mix is thrown Shannon Ferguson, the mysterious handsome stranger who follows Anais to Glenorie.  Shannon however has some rather unconventional secrets of his own and when a gruesome crime is committed Anais can't help but wonder if Shannon is involved and decides to do some investigating of her own.
The first in a series, this is a fun romp of a story and a real page turner.  The writing, particularly in the more 'serious' passages where love and friendship is involved is quite lovely.  Highly recommended 14 +.
reviewed by Meredith Capp