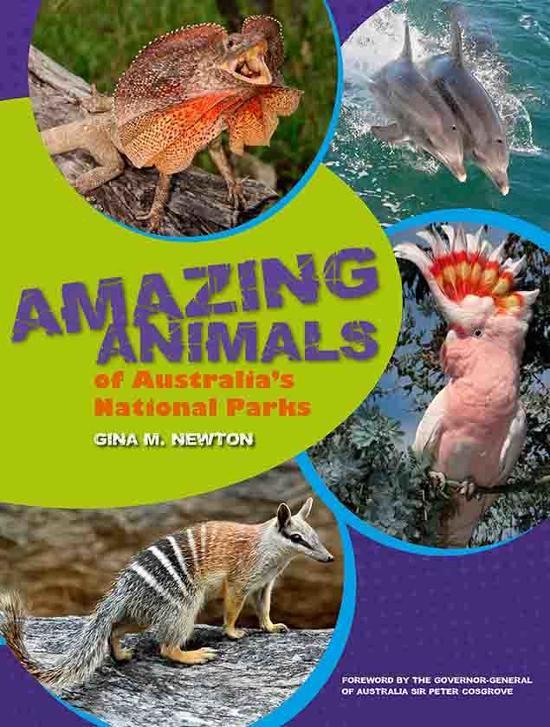 Gina M Newton,  Amazing Animals of Australia's National Parks, National Library of Australia Publishing,  1 Oct 2016, 156pp.,  $29.99 (pbk), ISBN: 9780642278883
This attractive reference book for children (8 – 12) describes more than 120 animals of Australia and 55 of its national parks and reserves. The author – a zoologist and science communicator – has hand-picked the most interesting and iconic animals to capture a young reader's attention, representing the major taxonomic groups (birds, amphibians, reptiles, mammals and fish).
National parks and reserves have been selected to best represent major habitat types, including woodlands & grasslands, arid zones, forests and coasts.
The book is divided into sections according to habitat type. Each section has its own double-page spread describing the habitat, and featuring photos of representative national parks. This is followed by profiles of interesting animals that live in that habitat.
With a different animal profiled on each page, there are enough facts to satisfy even the most avid budding biologist. Clever design features such as colour-coding, symbols, maps, keys and easy-to-read text boxes all play their part to make the wealth of information accessible without being overwhelming.
Information listed for each species includes common and scientific names, habitat, at least one national park it occurs in, national distribution and conservation status. There are also sections for Fast Facts (e.g. size, weight and lifespan), classification, behaviour and snippets of particular interest. And, of course, you can't go without an attractive colour photo or two!
Not to be forgotten, insects and spiders also have their time in the spotlight in their own Little Critters section.
The final section features a detailed glossary, reference section, index and two tables; one for featured parks and animals, and the other for the age at which different mammals reach maturity.
Even the endpapers are informative, with a map of Australia indicating the locations of the different habitat types and selected national parks.
As a zoologist myself, I can well appreciate the extensive work that has gone into making this book a fascinating and entertaining experience for young readers. The animals are interesting, the information accurate, and the clever design makes the information accessible; not overwhelming.
This excellent, attractively presented resource for older readers would especially suit children interested in Aussie animals and/or national parks, and those studying science or geography.
Downloadable Teachers' Notes for Years 3, 4, 5 and 6 are available from the National Library of Australia website.
Reviewed by Julie Murphy