E. Lockhart, Again Again, Allen & Unwin, June 2020, 304 pp., RRP $19.99 (pbk), ISBN 9781760295943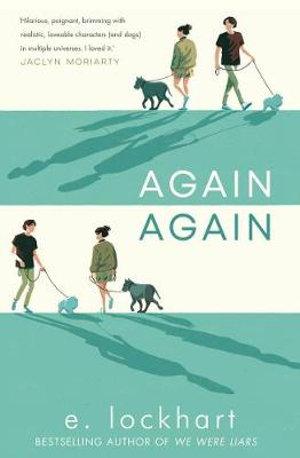 My little brother is an addict.
This is the mantra that has repeated in Adelaide's head like a broken record since her younger brother Toby nearly died due to a drug overdose. Adelaide holds a deep sadness and shame in herself which she has learnt to cope with and hide by donning a new sparkly, charming, chatty and easily distracted personality. However, lack of sleep and inability to concentrate lead to plummeting grades at her new fancy boarding school. For the final term of her junior year she is placed on academic probation, adding to the well of shame inside her.
On top of all this Adelaide's first love dumped her just before they were about to spend the summer together, and she realises how much her happiness depended on him. She is engulfed in an 'egg yolk of misery' when she happens to meet the attractive and tragic male hero, Jack. Adelaide is forced to deal with her trauma, feelings and relationships as she grapples with the problem of loving other people.
Could things have gone differently in another world?
Initially, I found many of the interactions between characters in this book somewhat unrealistic which bothered me, and the different versions of events somewhat confusing. However, the more I learnt about Adelaide the more I became engaged in her story and by the end I was hooked. This multi-verse text explores the grandiosity of the human mind, the struggles of relationships and the impacts our choices make. I particularly enjoyed the final part of the book where the entire summer is retold with one choice made differently.
If you think you would enjoy a YA realistic fiction that explores love and choice, Again Again by E. Lockhart may be the book for you.
Reviewed by Libby Boas