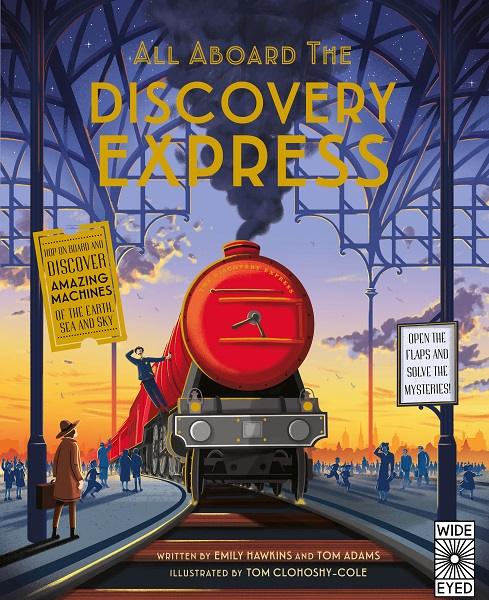 Emily Hawkins & Tom Adams (text), Tom Clohoshy-Cole (illus.), All Aboard the Discovery Express, Allen & Unwin, Oct 2017, 32pp., $27.99 (hbk), ISBN: 9781847809896
All aboard the "Discovery Express," a wonderous steam train that can travel around the world and through time. Departing from Paris in 1937 with explorer Nancy Delaney as our guide, each double page opening takes the reader to another location and time where an important discovery in human history has just happened. We visit the dawn of flight with the Wright brothers, the opening of the Panama Canal, the first motor car journey and also drop in on Leonardo da Vinci along the way to name just a few of the interesting people and moments in history that form our voyage. Throughout the text there are over 50 flaps for the young reader to lift and discover additional information on each invention or the inventor. Linking the information is a quest to find the missing leader of the expedition, Professor Pendleton, who leaves a trail of cryptic clues that the reader must decipher in order to solve his mysterious disappearance.
All Aboard the Discovery Express is a most attractive cross-over between information book and picture book. From the embossed front cover to brightly coloured double page illustrations and pleasantly designed information panels and flaps, the text is a work of art that is simultaneously functional and beautiful. Tom Clohoshy-Cole's vibrant illustrations bring to life the romance of steam travel and the wonder of invention while capturing the Art Deco atmosphere of the 1930's. The glossy pages are printed on board which gives them a sturdiness and durability often missing in interactive books.
Brimming with fascinating facts while the search for the missing professor adds to the enjoyment of learning, this is a wonderful book for primary school libraries or as a gift for the curious child in the 5 to 10-year-old age range.
Reviewed by John Nolan