Diane Jackson Hill (text) and Craig Smith (illustrator), Windcatcher: Migration of the Short-tailed Shearwater, CSIRO Publishing, October 2019, 32 pp., RRP $24.99 (hbk) ISBN 9781486309870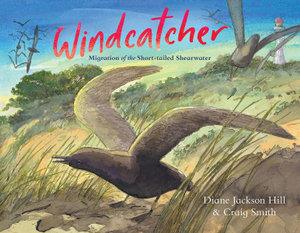 Under the star-soaked sky, the chicks flapped and flapped, their soft down choking the air. Each night, Hope joined them.
Written by award-winning children's author Diane Jackson Hill and illustrated by Craig Smith, Windcatcher is the remarkable tale of a fledgling short-tailed shearwater named Hope, whose adventures begin as soon as she leaves the burrow and embarks upon her marathon migration.
Driven by seabird law, Hope faces fatigue, wild storms, savage seas and manmade dangers as her long journey takes her from Griffiths Island, near Port Fairy, Victoria all the way to the rim of the Arctic Circle- and back again. This is the incredible 30,000 kilometre yearly migration made by all short-tailed shearwaters across the Pacific Ocean and over the equator to reach the northern feeding grounds.
Some say seabirds track their way by sensing magnetic north and south… or by the patterns of the stars. It may always be a mystery, but on one day – the same day every year – the light beaming from the tiny island… welcomes them home.
A truly fascinating and moving read for primary aged children (6-9 years) exploring themes of seabird migration, conservation and survival. Sensitively written with beautiful descriptions and an astounding depth of subject knowledge, the author manages to tell Hope's exciting story with a gentle warmth and without shying away from the harsh realities of life in the wilderness.
Craig Smith's fluid illustrations are wonderfully realistic and his swirling washes of organic greens and grey-browns help to conjure up the stormy skies and misty seascapes that are the natural backdrop of Hope's treacherous journey.
Ultimately, Windcatcher is a story of resilience and survival but this title and its teacher notes can be used for a much wider breadth of study and discussion. Many areas of social and biological sciences could be introduced when exploring the facts and locations behind the story and young readers may also be inspired to find out more about the people and culture of Gunditjmara country, where the short-tailed shearwaters make their home.
Conservation and the simple actions we can all take to protect and reduce dangers for migratory birds around the globe are the strong take-home messages of this thought-provoking picture book.
Reviewed by Lisa Hoad Mercer