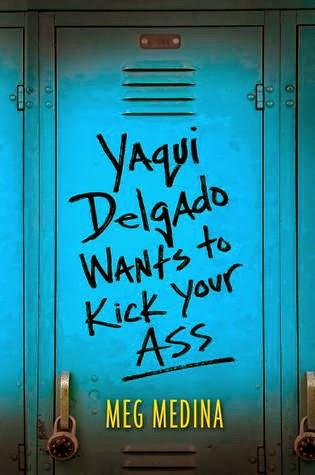 MEDINA, Meg Yaqui Delgado Wants to Kick your Ass Candlewick, 2013 260pp $24.95 ISBN 9780763658595 SCIS 1610418
The iridescent blue dust jacket of this book is arresting.  The threatening words of the title, scrawled in black pen on a school locker, lead inside to black fly leaves.  Each chapter heading is also scrawled in the careless lettering.  Readers are immediately hooked by the narrative related in the entertaining, intelligent voice of Latina Piddy Sanchez.  She has to move to Daniel Jones High School after ninth grade.  Her hard working mother has found them a better apartment but it means that Piddy has to leave her old school and friends.  At Daniel Jones, Yaqui Delgado and her followers make Piddy's life miserable.  The bullying affects Piddy so seriously that she loses her will to be a co-operative daughter or successful student.
In the course of the story Piddy learns about her mother's heart broken past as well as about the deprived background that may underlie Yaqui's attitude and unprovoked hatred.  The road back is uncertain for Piddy.  It takes time, but in this engaging narrative she depicts how she emerges more aware and finds better ways to regard and control some of her circumstances.  The novel speaks affirmatively for Latina girls and women in contemporary American society.  It also pinpoints with compassion issues that affect many individuals and groups perceived as outsiders.
reviewed by Elspeth Cameron