Rafi Mittlefehldt, What Makes Us, Candlewick Press US, January 2020, 352 pp., RRP $24.99 (hbk), ISBN 9780763697501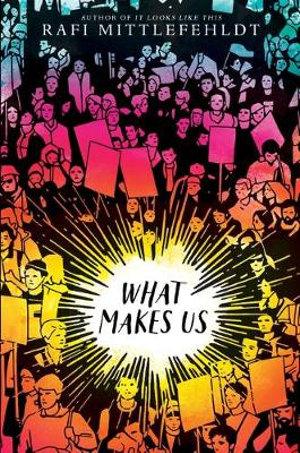 Eran Sharon is a senior in high school living with his mother in a suburb of Houston. His dad left when he was a baby, and his mother refuses to speak of him. When Eran, deeply interested in social justice and equality, learns that Houston police have launched a program to increase traffic stops, he decides to hold a peaceful protest. But after the protest goes badly awry, a reporter calls Eran's home, asking if Eran is anything like his father, a supposed terrorist and extremist. Soon enough, Eran is wondering the exact same thing.
What Makes Us is a deep, thoughtful and sometimes confronting novel about a boy on the verge of manhood who must decide if he will choose his own path through life, or if it was chosen for him when he was only a child. It is a story about how events can shape the way we see ourselves and others, the choices we make and the lives we lead.
To tell this story, Mittlefehldt has chosen to make use of different voices and differing points of view. There are frequent shifts in perspective, moving from Eran's voice in first-person; to his friend Jade, the voice now changing to third-person; and then again to his mother's tragic past where the writing takes on almost a poetic tone. Mittlefehldt deftly crafts the different voices to suit the different strands of his narrative, weaving them together to form a complex and compelling narrative.
Mittlefehldt has done a great job of only revealing enough as he needs to as the story unfolds, so that as the events begin to spiral out of the characters' control, we begin to understand more and more the roads that led them all to this moment.
The book raises a number of pertinent questions within its pages – how do past events shape our lives, even when we were too young to actively remember? Which is stronger – nature, or nurture?
It also explores the issue of "mob mentality", and the nature of fear and distrust in the modern world. Mittlefehldt uses suburban Texas as his example, but sadly it's not hard to imagine similar attitudes of bigotry and hatred bubbling to the surface in this country as well.
As the main characters are seniors in high school, the ideal target audience will be young adult readers in the same age group (i.e., 16-17 years old). It's a real page-turner and definitely the kind of book that leaves you thinking about it for a long time after you've put it down.
Reviewed by Christian Price