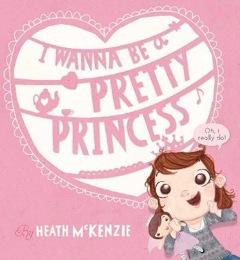 McKENZIE, Heath I Wanna Be a Pretty Princess Scholastic, 2014 unpaged $16.99 ISBN 9781742838212 SCIS 1655117
This ironic take on the Cinderella story is one that will delight many readers.  It begins with the dream of many little girls to be a princess.  All her dreams seem to be answered when a real, almost Disney princess, except for her brown hair, arrives to assist in making the dream come true.  She learns about all the necessities of a princess, a pretty dress, perfect make up, perfect hair, perfect manners and perfect dancing.  The problem is it is not quite what she is expecting and she has some decisions to make.  Her decisions about being a princess are then explored.
The artwork makes good use of the plain white background, so the reader's focus is fully on the action and the characters involved.  The text is written as conversation, but without the usual grammatical devices to indicate this.  The princess's words appear as ordinary text, while the other characters have their words written in different coloured bubbles.  It is only in the final few pages where reality takes over that the little girl's words appear as a written list.  This book is great fun and highly recommended for children 3-8 years.
reviewed by Sue Clancy