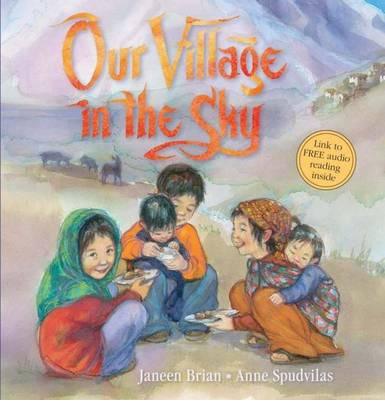 BRIAN, Janeen (text) Anne Spudvilas (illus.) Our Village in the Sky Allen & Unwin, 2014 unpaged $24.99 ISBN 9781743318140 SCIS 1674005
Two of our most talented picture book creators have combined to produce a beautiful book about life in an unnamed Himalayan country.  The children of the village are shown carrying out various mundane tasks such as fetching water, washing clothes and herding goats but their sense of play is also shown with an improvised seesaw and a game of knucklebones.
The illustrations, which appear to be pencil or ink with watercolor, are spread across each double-page spread with the text placed appropriately to the sides or within.  The colours depict the surroundings, the children and their homes and change with the time of day to create atmosphere.
The text has a lilting, lyrical quality and reads like blank verse.  The use of language is excellent.  The words are very evocative and in simple words create a real feel for the ordinary life in this mountain village.  The author lived for a month in a remote village like this one and has based the book on her experiences.  Highly recommended and especially useful for classrooms.  Teachers' notes are available from the publisher's website.
reviewed by Lynne Babbage