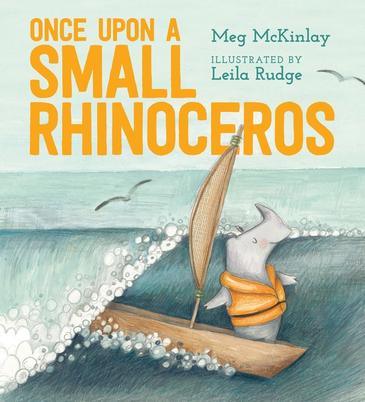 Meg McKinlay (text),  Leila Rudge (illus.),  Once Upon a Small Rhinoceros,  Walker Books Australia, 1 Sept 2017,  32pp.,  $24.99 (hbk),  ISBN: 9781925126709
The inspiring tale of a small rhinoceros who defies the odds to explore the wider world seems simple enough upon first reading. Meg McKinlay's light as air text complements the gentle coloured pencil illustrations of Leila Rudge, to create a gorgeous picture book experience that all children will love.
The concept of a young, ambitious character who feels that there is more beyond the everyday is not new, but it is given fresh life in this telling, as the young female rhinoceros goes about dreaming, building and eventually sailing off on her adventure. Meg McKinlay's blog post explains just how deep-seated our traditional notions of what girls and boys 'do' really are. How we are used to boys setting sail across the seas, and girls waiting at home, keeping the fires burning. Her descriptions of the lively debate this reading invokes, sound like a wonderful way of changing this 'norm' for future generations.
Despite the misgivings of the adult rhinos, the small rhino goes about her business, intent on her goal. Her simple responses model a powerful way of responding to those who doubt or question:
A sun-bathing rhinoceros rolled his eyes.

"You're a rhinoceros. You can't row. Or steer. Or read a map."

"Yes," said the small rhinoceros. "I know."
How often do children (and adults!) hear these type of remarks and cave in – giving up their dreams to accept a more humdrum existence.  Once Upon a Small Rhinoceros beautifully reminds us that we should stay true to our dreams, and think big. Our actions may lead others to seize their dreams also!
Suitable for readers aged five and up, Once Upon a Small Rhinoceros is a wonderful addition to school and public libraries, as well as home reading collections. It would be a lovely bedtime story, or a great inspiration for writing about youngsters' own dreams and ambitions.
Reviewed by Kay Oddone