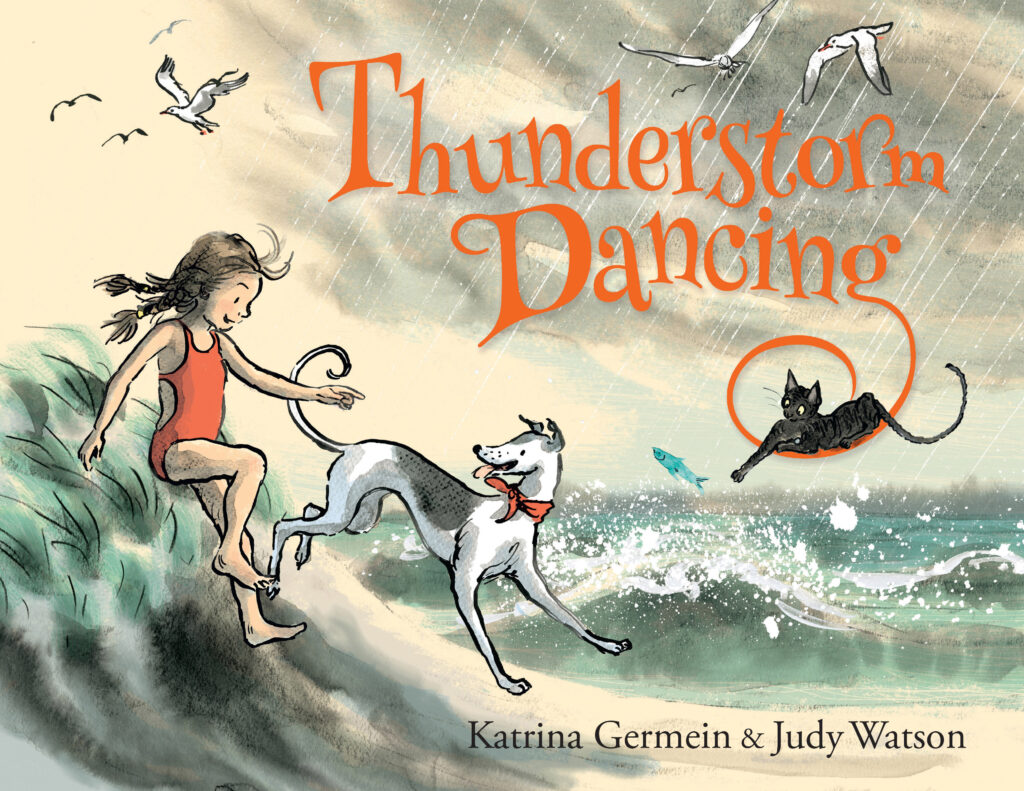 Katrina Germein (text),  Judy Watson (illus.), Thunderstorm Dancing, Allen & Unwin, 25 March 2015, $24.99 (hbk) ISBN 9781743314593
Thunderstorm Dancing is a wildly energetic story of a girl and her family rhythmically expressing their interpretation of a swirling thunderstorm while it rages outside. With Katrina Germein's rollicking onomatopoeia and exuberant lyrical verse, the little girl's family whizz up an indoor storm whilst she takes cover. The house becomes a romping, rumbling orchestra of stamping feet, roars, claps, and clanging spoons on pots and pans. When the riot finally ceases, Granny smiles and her piano music emanates the gleaming sun. The final image is delightful with the girl radiating warmth and beauty across a calm, blue sky.
As animated and fast-paced as the text, Judy Watson's illustrations emit passion, spirit and verve. Her breathtaking, sweeping pictures, synonymously with the lively pandemonium expressed in the words, almost literally thrust the whirlwind out of every page and carry the reader along with every scene. The beautiful hues of blues and oranges set against creamy backgrounds, together with a mix of lines, daubs and splashes, effectively represent the different aspects of the storm and the contrasting sentiments of chaos and peace.
Thunderstorm Dancing conveys warmth and affection as characterised by this loving, interactive family and their pets. It is a joyful and vibrant story, perfect to read (or sing) aloud and dive straight into the action. It lends itself to a wide array of experiences in dance and creative arts, and environmental studies. Preschoolers will be stamping their feet for more.
Teachers' notes and activities can be found on the Lamont Books website.  Highly recommended.
reviewed by Romi Sharp