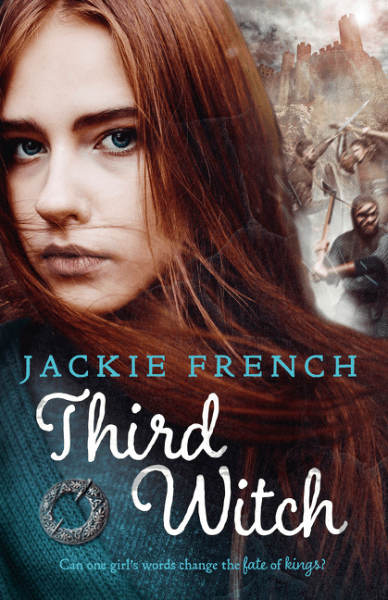 Jackie French, Third Witch, HarperCollins Australia, 1 July 2017, 256pp., $16.99 (pbk) ISBN 9781760113797
"The three witches were instrumental in Macbeth's downfall. Discuss."
If you remember this old chestnut of an essay question you will appreciate Jackie French's captivating reimagining of Shakespeare's classic play. However, prior knowledge of the bard's text is not necessary to enjoy the intriguing and insightful story she presents.
In French's vision of the tale, Annie Grasseyes is a young village girl who finds herself working as a maid to Lady Macbeth who is anxious to further her husband's career. She calls upon Annie's contact with the village herbalist, Old Agnes, to make a potion that will give Macbeth the courage to ask King Duncan for rewards after his heroics on the battlefield. Agnes believes something more potent is needed to embolden a noble such as Macbeth and with the aid of Annie's mother the three women contrive an eerie theatrical performance designed to encourage his ambition. They encounter Macbeth on a heath where Annie, in a rush of excitement, overstates her role and promises Macbeth he will be king. After the spectacular success of their performance, Annie begins to blame herself for unleashing Macbeth's vaulting ambition which she suspects has led to the death of Duncan and the bloody deeds that follow. She finds herself enmeshed in political intrigues she doesn't fully grasp and is increasingly disturbed by the strange behaviour of the new queen and her unpredictable husband.
French has been true to the original play, and lines from it are interspersed within her text giving it authenticity and grounding it in the dark, evocative atmosphere of Shakespeare's work. Annie is swept up in a tide of events far beyond her control and the reader is given a new and interesting perspective on this well-known tale. As with the play, the themes of loyalty, betrayal, love and power are all explored, but Annie's innocence and bewilderment give the reader great sympathy for her and the frightening situation in which she unwittingly finds herself embroiled. Ultimately, she triumphs over her circumstances and finds the meaning of true loyalty and love.
Third Witch is an exciting story suitable for secondary school age readers. Those who are studying Macbeth will find it even more engaging for its fresh approach and different point of view. Just like her earlier Shakespearean based novels, I Am Juliet and Ophelia: Queen of Denmark, Jackie French has reinvented this timeless tale to make it accessible and appealing to a new generation.
A Teaching Guide can be found on the Pan Macmillan Australia website.
Reviewed by John Nolan