Kaye Baillie (text) and Fiona Burrows (illustrator), The Friendly Games, MidnightSun Publishing, June 2020, 32pp., RRP $29.99 (hbk), ISBN 9781925227642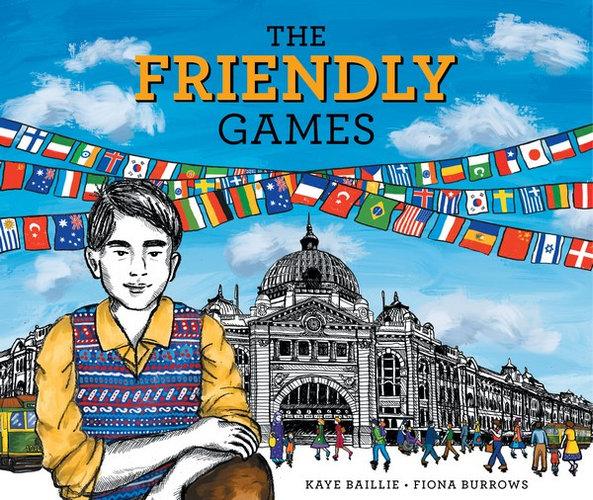 Based on a true story, The Friendly Games documents Chinese student John Wing's efforts to ensure that the closing ceremony of Melbourne's 1956 Summer Olympics Games were a joyous, inclusive and friendly celebration. Baillie grounds the story in John's happy upbringing at a Melbourne orphanage. When world tensions threaten to overshadow the Games, Wing turns his mind to bringing people together. His anonymous suggestion that all athletes walk around the arena in mixed groups, sent with a diagram to the Chairman of the Organising Committee, was soon adopted. 'The Parade of Athletes' went on to become a fixture and an important symbol of unity and peace in the Olympic Games' Closing Ceremony.
This is a beautifully produced book. Fiona Burrow's striking vintage-look illustrations are a marvel, giving the book a retrospective feel. Weaving fact and fiction in energetic but informative prose is a question of balance and undoubtedly a challenge. Baillie's efforts are to be lauded. My only quibble is her lengthy note at the back of the book. In my view, it seemed to repeat the story and arguably offered a more compelling and insightful account of events.
Readers will take heart from the story's inspirational message and its relevance today – that young people, like the passionate yet humble John Wing, can effect change.
Reviewed by Maura Pierlot
Read Maura's interview with Kaye Baillie here