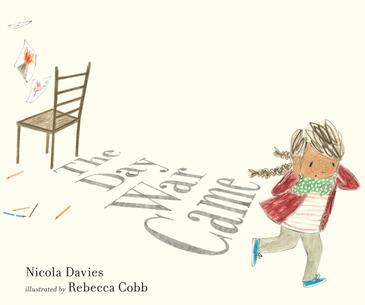 Nicola Davies (text), Rebecca Cobb (illus.), The Day the War Came, Walker Books Australia, 1 June 2018, 32pp., $24.99 (hbk),  ISBN: 9781406376326
Heartbreaking yet timely, this is the story of a little girl whose home – and life – is ravaged by war. This story was originally published as a poem on the Guardian newspaper's website, inspired by a true story the author heard of a refugee child being refused entry into a school because there was no chair for her to sit on. Here, the moving poem has been adapted into a beautiful picture book, teamed with illustrations that capture the loss and devastation of a region destroyed by war.
Before the war came, the young narrator had an ordinary life; she loved learning about volcanoes, frogs and birds at school and enjoyed a simple home life with her parents and baby brother. But war hits suddenly, and the girl struggles to come to grips with the terrible loss:
'I can't say the words that tell you about the blackened hole that had been my home'.
Now living in refugee camp, the girl searches for hope amid the devastation. She comes across a school, and after initially being denied entry due to over-crowding, a simple act of kindness restores her hope of a better future.
It was particularly moving and poignant that what this young girl wanted most of all was simply to attend school and 'learn about volcanoes, sing and draw birds'.
This is a story of strong themes, yet it is gently and subtly told, making it a valuable book for any primary school-aged child to read. It would make a fantastic teaching tool for a class learning about war and the refugee crisis. This is a story that conveys a powerful message and is sure to open up some important conversations.
Reviewed by Melinda Allan