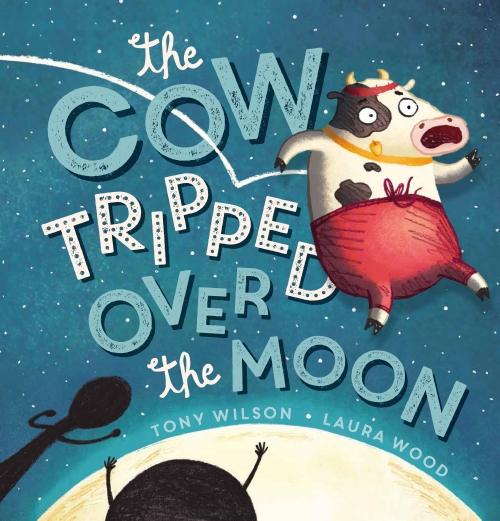 Tony Wilson (text) Laura Wood (illus). The Cow Tripped over the Moon. Scholastic.  1 June 2015. 32 pp. $24.99 (hbk),  ISBN: 9781743623534.
This hilarious picture book re-imagining of the old rhyme Hey Diddle Diddle will have kids and adults laughing out loud. We all know the rhyme, right? –
"But what they don't say
in the songs from that day
is the cow didn't jump it first time
It seems a moon clearance
takes great perseverance,
so back to the scene of the rhyme…"
Seven hilarious failed attempts are then recorded before the eighth and successful attempt fulfils the nursery rhyme, and along the way Cow has her support team (dog, cat, dish, spoon) cheering her along. Invaluable life lessons about friendship and perseverance are sneakily hidden in a fun filled narrative that will have everyone coming back for more.
Great fun rhyming text, at times playfully irreverent (the dog laughed till he barfed) combined with atypical nursery style illustrations more in the style of Reg Mombassa and his Mambo art in heritage federation colours (giving it a paradoxical age-old yet modern feel) widens the scope of readership appeal.
Highly recommended
reviewed by Debra Tidball