Heath McKenzie, The Colouring Competition, Scholastic Australia, April 2020, 32 pp., RRP $17.99 (hbk), ISBN 9781760158859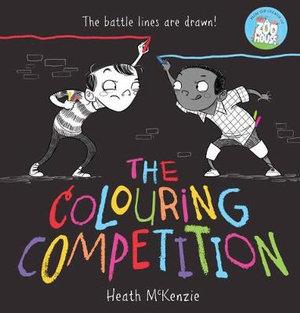 Oscar sees a poster and sets about colouring for the competition. Henry is doing the same. But they're not satisfied with keeping their art on the paper. Their colours spill over into the rest of the world: across everything and constantly outside the lines; bold vibrant colour erratically across all pages. The boys visit the park, the zoo, a market and busy streets. They forget the purpose of their colouring, so intent are they on adding brightness to their black and white environment, and all the time their friendship is blossoming.
There are opportunities for readers to add their own colour to the pages of this book, but not by those who have borrowed the book from a friend or a library. There's lots for the reader to observe on each page, and I spy games could be played.
It's a fun title and will be enjoyed by many.
Reviewed by Maureen Mann