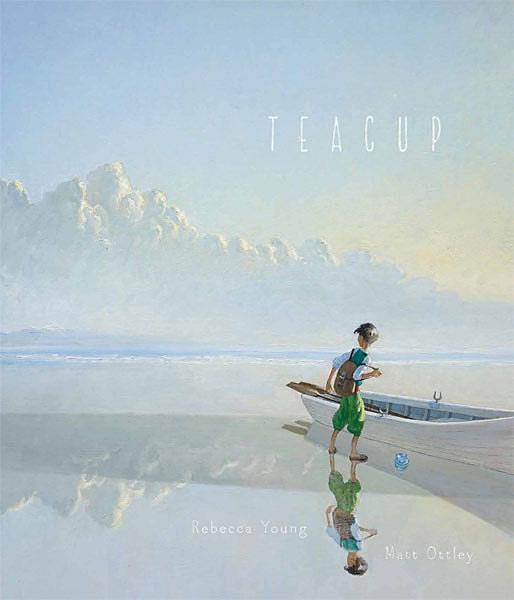 Rebecca Young (text). Matt Ottley (illus.), Teacup, Scholastic, 1 May 2015, 32pp.,  $24.99 (hbk)  ISBN 9781743623848
 'Once there was a boy who had to leave home… and find another.'
Teacup is a gently crafted story about a young boy set adrift to find a new home. He leaves, alone in a small row boat with a book, a bottle, a blanket and a teacup full of dirt from where he used to live.
Some days the sea is calm, gently lapping against his hull. Other days the sea is rough and he is tossed about on the wild waves. All the while the small boy is on the look-out for safe land.
One day he finds a plant has sprouted in his tea cup. This plant grows into an apple tree providing shelter, shade and fruit. After his long journey he does find somewhere to start his new life… and he finds a friend.
This is a unique refugee story of a young boy. We are touched by his innocence, loss, courage, resilience and hope.
Matt Ottley is a highly talented picture book creator and musician. His tender oil painting illustrations provide a magical accompaniment to Rebecca Young's gentle text.
Teacup is Young's second picture book published with Scholastic. Her first was Button Boy in 2011.  Teacher Notes can be found on the Scholastic website.
reviewed by Wendy Fitzgerald