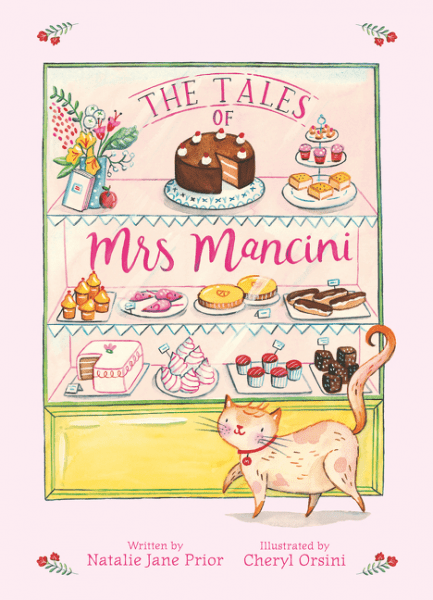 Natalie Jane Prior (text),  Cheryl Orsini (illus.), The Tales of Mrs Mancini,  ABC Books/HarperCollins Australia,  1 Nov 2016,  48pp.,  $19.99 (hbk),  ISBN:  9780733335655
When first presented with the cover of The Tales of Mrs Mancini, one could be tempted to dismiss this book as light and fluffy. The pink tones, the flowers and cakes, could put off those readers who are disinclined to "girly" books. What a mistake that would be, because what Prior and Orsini have created is a thoughtful and smart book which would appeal to all readers interested in relationships between young people.
This is a collection of three short stories, complex enough to engage those junior independent readers, but accessible enough for younger readers to have it read to them. It follows the adventures of a cake shop owning cat, Mrs Mancini and her human friend Filippina. The clever ploy of having the main character be the cat, instead of Filippina is charming and original. Mrs Mancini takes in the comings and goings of her village, taking great pride in knowing her customers well. When her young patrons get into scrapes, Mrs Mancini takes it upon herself, with the help of her Tail Magic, to put things right once more.
Prior writes with a knowing smile, giving her main feline character a sly and cheeky sense of adventure. Mrs Mancini secretly approves of a brother and sister sharing eclairs, is sure she's lost weight from the effort of climbing a wall and signs for packages she's ordered on the internet. When it comes to helping her friends, Mrs Mancini is no wimp. She takes on bullies, scales roofs, flies remote controlled helicopters and secretly invites them all to a picnic birthday party. What a cat! Prior's words are clear, funny and deft. Her use of action to reveal emotion is to be admired, such as when Jack's anxiety and sadness is shown through his riding a bike back and forth and feeding his extra muffin to the birds.
Orsini's illustrations are sweet without being saccharine. Mrs Mancini is light on her feet, with a big furry belly, and a swishy tail perfect for Tail Magic. The illustrations contain many funny or lovely little details for readers to discover, such as Mrs Mancini trying on a too-big helmet or the path of a fly-away hat.
Reviewed by Madeleine Crofts