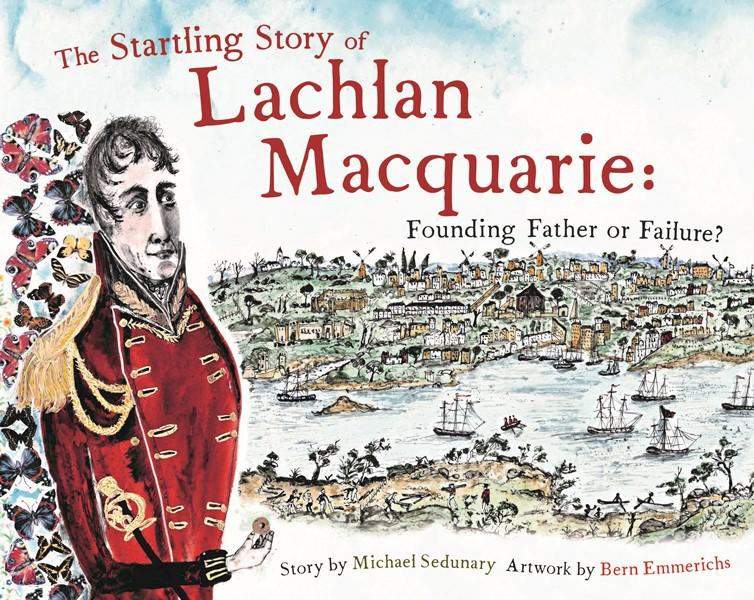 Michael Sedunary (text),  Bern Emmerichs (illus.),  The Startling Story of Lachlan Macquarie: founding father or failure?,  Berbay Publishing, June 2017,  56pp., $29.95 (hbk), ISBN: 9780994384102
Although it is presented as a picture book, The Startling Story of Lachlan Macquarie is not for younger readers. It focuses on Macquarie's time as Governor of New South Wales, from his swearing in up to his resignation, return to England and eventual death. At the same time it deals with complex social issues of the time around governance, power and social stratification, talking about these in a clear, straightforward way. Adult readers will find it interesting too, as it raises questions around how Australian society might have developed as it has, and the ongoing social issues we still face. It also explains concepts like democracy and autocracy. It is fairly even-handed in its presentation of Macquarie, rather than black and white, outlining his achievements and the ways in which his attitude towards convicts was radical and 'enlightened' for the time, whilst recognising that his behaviour towards Australian Aborigines was Colonialist and led to tragedy.
The images in the book were painted on ceramic tiles, with the tiles fired between different layers of colour. This gives the images an unusual quality and beautiful clarity of colour. A few have raised gold highlights. They are very detailed, with a lot to take in on each plate, including handwritten additions that name places and people. There is some stylistic variation, with one all in blues, reminiscent of traditional willow pattern ceramics, others more like traditional 'scene' illustrations and still others functioning almost like visual lists. A few lacked a clear description of what was being depicted, such as the line-up of people, leaving the reader to guess exactly what the image was about – I would have liked some more detail on these. Overall though the art style is intriguing and compliments the words well.
Macquarie's story is written in the present tense throughout, giving it immediacy and placing the reader inside his thoughts at times, bringing the story to life. There is humour in the writing, for example, Colonial Sydney is described as 'a mess', and Macquarie's tendency to name any significant landmark after himself is highlighted. For sensitive readers it is important to be aware that there is a graphic description of a flogging and of the treatment of Aborigines. It is fascinating to learn that some of those who had important positions in Colonial New South Wales had convict backgrounds, such as architect Francis Greenway, a convicted forger, who designed many of the significant buildings of the time.
The Startling Story of Lachlan Macquarie ends by asking whether the title of 'Father of Australia' inscribed on Macquarie's gravestone is deserved, a good jumping off point for a class discussion around the book's contents. Finally, on the last page there are details for a mini-tour around sites in Sydney that were significant to Macquarie's story. An enlightening and enjoyable way to examine an important period in Colonial Australian history.
Teacher's Notes are available on the New South Books website.
Reviewed by Rachel Le Rossignol