Lesley Gibbes (text) and Judy Watson (illustration). Searching For Cicadas. Walker Books Australia. August 2019,32 pp., RRP $26.99 (hbk), ISBN 9781922244420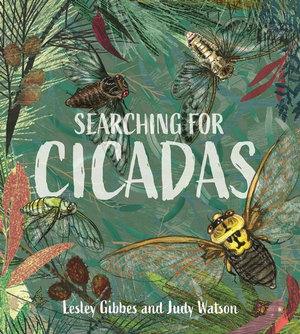 Cicadas – and the noise they make – are very much a part of summer in many parts of Australia. This book, a part of the Nature Storybook series, combines a story about a child and their grandfather looking for cicadas with factual information about the cicadas. I'm sure it will come as a surprise to many readers that there are different kinds of cicadas, some of them named for their colour and others for the sound they make.
Different fonts differentiate the facts from the story element of the book. Once summer comes, the child and their grandfather go camping in order to find cicadas and the nymphs, the pre-adult stage. Their excitement is complete when they find a relatively rare Black Prince. The book depicts an unusual interest shared by the two generations but it also provides a companionable activity and a warm relationship.
The layout and design of the book is generally good. The cover shows a range of cicadas, ones we learn the names of once we start reading the book. The endpapers are bright, colourful and inviting. However, on the pages where the two are camping and it is night time, it is a little difficult to read the blue text against the black background. There is some additional information about cicadas at the back of the book, as well as information about the author and illustrator. The book includes a useful index.
Reviewed by Margot Hillel