Ava Keyes (text), and Aleksandra Szmidt (illustrator), Scapegoat, Little Steps Publishing, September 2018, 32 pp., RRP $14.95 (pbk), ISBN 9780648267461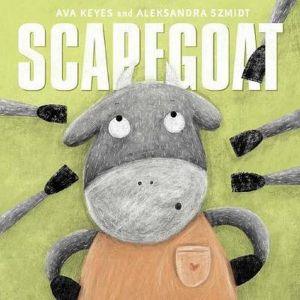 Scapegoat lived with his family, in a house of silver grey;
There was plenty of food and water and lots of time to play.
Things could go well, and happy times were the best,
But one single kid in the flock got all the mock and jest.
In this, her debut picture book, Scapegoat, Ava Keyes aims to provide a valuable resource for children experiencing a specific kind of family bullying- family scapegoating.
Written in verse, this touching story unfolds in singsong rhyming couplets, set against the richly textured, full-colour spreads of Aleksandra Szmidt's joyful animal illustrations (Quirky Quentin, Evan's Turning Seven.)
As the subtle yet continuous bullying begins to take its toll on little Scapegoat, his delicately described feelings of confusion and shame are captured in Szmidt's expressive artwork. Her distinctive style, created with a mix of watercolour, gouache, and coloured pencil, brings a delightfully expressive element to this compelling narrative.
After sharing his feelings with his good friend Harry, the hairy-nosed wombat, Scapegoat is able to articulate his feelings and discuss them with his teacher Mr Sheep, who in turn helps both Scapegoat and his stressed-out parents to understand what has been going on.
'Never apologise for what you feel,
It's like saying sorry for being real.'
Eventually, Scapegoat learns how adults can sometimes get things wrong and begins to listen to his own heart and mind, trusting in his own thoughts and feelings.
As well as being a beautiful picture book aimed at young readers (6-8 years) and beyond, this important story encourages children to seek help if they need it and to find strength within themselves. A great title to share with all young children and a valuable addition to any educator's pastoral toolkit.
Reviewed by Lisa Hoad
Read Deb Kelly's review of Scapegoat