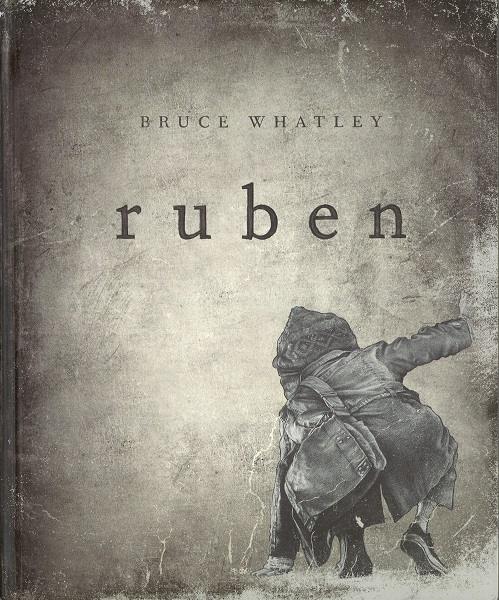 Bruce Whatley Ruben. Scholastic Australia, August 2017, 96pp., $29.99 (hbk), ISBN 9781743810354
Ruben lives alone in his safe place, surrounded by things he has collected. He dresses and heads for Block City, walking through streets of destruction and abandonment, "full of relics of a forgotten time, shapes without function". Trains arrive overloaded in Block City, leave empty. Venturing further into Block City he meets Koji, someone like him. Together, keeping to the shadows, they walk along the platforms, avoiding the inhuman Controllers, Listeners, Monoliths and other things that keep Block City serviced. He scavenges something dropped and missed by the Sweepers. After leaving Koji in her safe place, he returns to his, only to feel different after meeting Koji.
This picture book for older readers, with its futuristic setting and plot, is remarkable in many ways. The illustrations, all in black and white graphite, are detailed and intricate, the various shades working to enhance the feeling of desolation in this futuristic city. Every time I read this book I see something new and different. The verbal and visual texts blend as one. The verbal text is devoid of dialogue. This is a clever device, enabling the silence of the city in which it is set to be more emphasized and profound. The framing, perspectives and viewpoints used throughout are deliberate and very effective. After one particular page turn the reader is placed firmly in Ruben's position, feeling just how he would feel. Told in three parts and ending with a hopeful epilogue, Ruben is a picture book that will not only stand the test of time but will be pored over again and again.
Highly recommended for all libraries and picture book collections for those who, like me, love picture books.
Information on how Bruce Whatley created the images can be found on his website.
Teacher Notes can be found online too.
Reviewed by Liz Derouet