Catherine Meatheringham (text) and Max Hamilton (illustrator), My Possum Plays the Drums, Windy Hollow Books, March 2020, 32 pp., RRP $16.95 (pbk) ISBN 9781922081841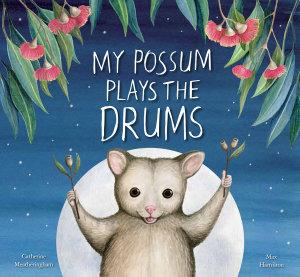 My Possum Plays the Drums is Catherine Meatheringham's first picture book. The inspiration for this story came when she lay awake one night listening to the thumps, bangs and hisses of a noisy possum. Being a keen music lover, Catherine thought all the different sounds were just like a possum orchestra playing through the night.
'Night-time falls and the possum orchestra begins.
Drums bang, violins scratch and I can't sleep!'
The author uses words to describe the sounds and movements that the possum and its urban make-shift instruments make. Each 'sound' word comes to life and stands out from the white pages in an individually designed font, encouraging interest and child participation from the first page.

Accompanying the text are Max Hamilton's full-page water colour illustrations depicting the noisy orchestra of possums playing with joyful gusto in their urban environment. In each picture, the illustrator incorporates bright Australian flora and fauna alongside the subdued twilight hues of the sleeping city. These tenderly painted illustrations offer young readers a fascinating insight into the blended habitat of the urban possum and the chance to mimic the playful movements each animal makes.
Suitable for sharing with young readers aged 3-6 this picture book would be a great addition to any play-based learning program. As well as dramatic language and aspects of nature, young children could also explore the musical concepts within the book: making musical sounds with their voice, clapping, stomping or using whatever real or craft-made instruments were available to them when recreating or enacting the story.
A uniquely Australian tale celebrating Indigenous wildlife and urban living, My Possum Plays the Drums is sure to enchant and entertain many young readers. 
Useful teacher notes can be found here.
Reviewed by Lisa Mercer