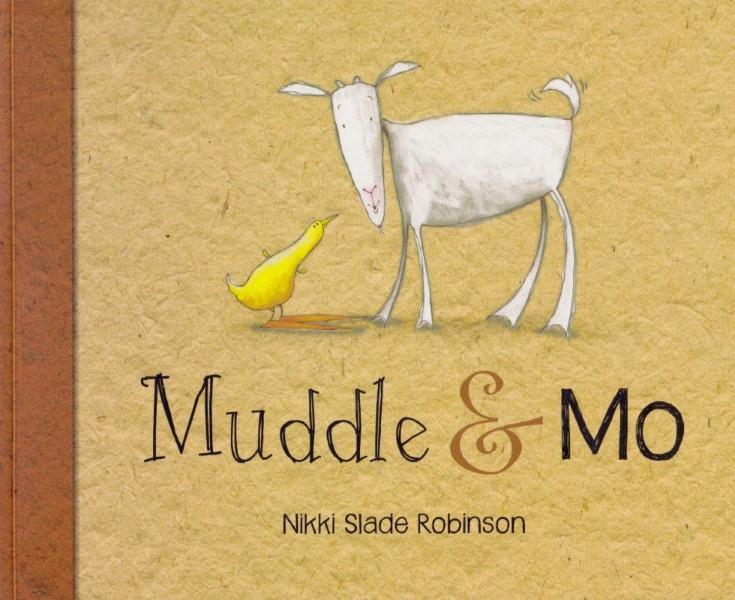 Nikki Slade Robinson,  Muddle & Mo,  Starfish Bay, 1 May 2015,  32pp.,  $14.99 (pbk),  ISBN 9780994100757 (hbk) 9780994100740 (pbk)
The important discovery of what makes each of us unique is told through this rather comical tale about a duck with an identity crisis. Page by page the assertive, yet likeable duck makes concerning discoveries about his friends absence of duck-like features.
The conversational script, which is played out between the two characters allows the reader to play with voices and tones, further adding to the delight of this tale. There is a limited amount of text throughout, with most double page spreads containing only a single sentence. Laying the text out in this way allows for interesting pauses in the conversation between the Duck and Goat characters. It provides time for children to laugh, question and consider the statement just read, and with statements such as "Your poos are too hard", you can be guaranteed a young audience will enjoy a time gap for a giggle!
This is a book about uniqueness and identify but mostly it is about friendship. Highlighting the differences between the pair and recognising that a duck is nothing like a goat, yet they still hold a strong bond.  Used in a classroom or home setting, this story would provide support for themes of inclusion, diversity and friendship. The book invites children to recognise their own uniqueness whilst encouraging them to embrace the differences of others.
Throughout the entire book the only illustrations are that of the characters, which perfectly matches the conversation style narrative. Through the illustrations, the author has created characters that are likable and quirky. The individual characteristics of the bossy duck and the bemused goat are illuminated by the various expressions they exhibit as the conversation between the two unravels. An easy and enjoyable read that is bound to leave a smile on face.
reviewed by Kerri Bennett