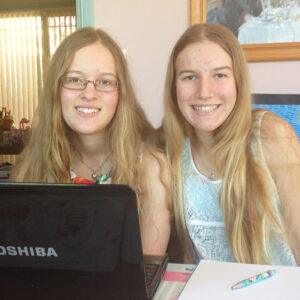 Reading Time chats with the Crnkovis sisters, Isobel (16) and Josephine (15) about winning the Written Portraits Book Deal Competition and the writing of their debut novel, Scales of Time
 Since winning the Written Portraits Book Deal Competition, we have learnt so much about what the experience of writing a book is like.  It was a really exciting journey to be part of and we both enjoyed it very much.
We got the idea for our book before we had even thought about entering the competition.  At the time we were down the South Coast and were climbing up to a look out on a hill.  At the top there was a cave made from a cluster of boulders.  It was looking at this cave that inspired our very first ideas for a plot.  Sometime afterwards we heard about the Written Portraits Competition, hosted by Forming Circles Pty Ltd in collaboration with Green Olive Press, and we both entered short stories.  We also put together a synopsis for the book deal part of the competition, but we never expected to win.  As you can probably imagine we were both extremely excited when we found out that we had won and were going to publish a book together, something we had not thought to attempt before.
And so, the process of writing our first published book had begun.  It was a great experience, lots of hard work but heaps of fun!  We both love writing stories but before winning the book deal neither of us had ever finished a book.  We set a regular time for us to sit down and write each week as well as communicating with our editor and publisher, Caroline Webber, at Green Olive Press by email.  One of the best parts about writing our book was watching the characters develop.  We have both come to know and love our characters, especially the two main ones, Natalia and Lian.  (Isobel wrote from the perspective of Lian and Josephine wrote from the perspective of Natalia.)  It was an interesting way to write the book as we could really get into our character's head and explore their feelings, motivations and personality.
At first we had a little trouble planning the plot for the story.  In the early stages of writing it we had only planned ideas up to a certain point.  We then sat down with each other and discussed what kind of events we wanted to happen in the story.  We had realised that to really structure the book we had to plan the whole thing from start to finish.  Once we had done that it was a lot easier to write and include all the important information necessary to the storyline.  We sent our plan to Caroline so she too could track our progress and get a sense of where the story was going.
Over the course of the writing process, aspects of the story changed.  We had a few ups and downs to do with naming characters and place names as well as the direction the plot would take, but it all came together and we are both extremely proud of the results.
We chose to write a fantasy novel because it is a genre we have both always enjoyed reading.  A lot of our favourite books are fantasy and we love writing fantasy stories.  We like how it has no rules and you can create and use all sorts of supernatural creatures like the dragons, trolls and spell casters in your book.
The book is called The Scales of Time and it will be the first in the series of the The Spellcaster Chronicles.  Seeing it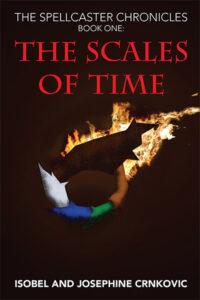 come together in the final stages of the process was an amazing experience.  We got to write a brief for the book cover's look, then a designer at Green Olive Press did an excellent job of bringing our ideas to life.  We were also asked to write a blurb or synopsis for our book which was a little challenging but we came up with something in the end.  It was quite difficult to summarise the book in a few short paragraphs without giving too much away.
It seemed like an overwhelming task at first, to write a book in just twelve months but it has been great fun and an enormous step for us as writers.  It was a journey that wouldn't have been possible without the support of Green Olive Press and Forming Circles.  We already have plans to write a second book together, following the further adventures of Lian, Tali and their friends.  It was an incredibly exciting experience and we hope to share more of our story with readers and writers alike.