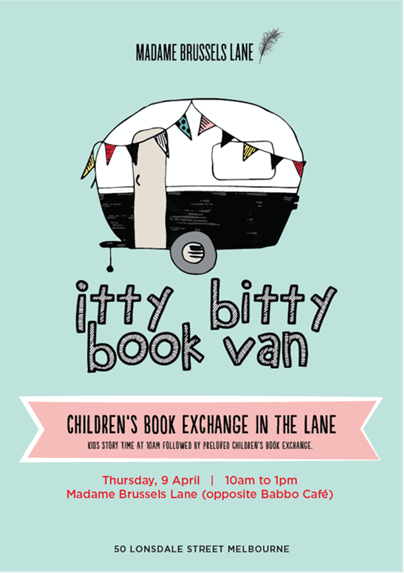 After making its way around Victoria, the Itty Bitty Book Van is heading to the big smoke, calling Madame Brussels Lane home for one day only.
The concept is the brainchild of Geelong mum Kerri Bennett who said she wanted to find a way for her children to refresh their personal book collections without breaking the bank.
"Organised book swapping is both an economically and environmentally friendly way to keep young children interested in reading," Kerri said.
"It's really lovely to see children pass on a favourite story in the hope someone else will love it, and for them to find something else that will keep them entertained."
Children are invited to bring a pre-loved picture book (in good condition) to the van and exchange it for a voucher. Children will be treated to a storytelling session, then they can use their voucher to swap for another book to take home.
This is a FREE activity brought to you by Madame Brussels Lane.
What: Itty Bitty Book Van makes its CBD debut, with story time followed by a pre-loved children's book exchange
Who: Bring your itty-bitty children – this activity is best suited to primary school-aged children 10 years and under
When: For one day only. Thursday 9th April from 10am-1pm. Story time at 10am.
Where: Madame Brussels Lane, 50 Lonsdale Street (opposite Babbo Café)
Why: Free children's activity starting with story time and continuing with a pre-loved children's book exchange. Bring your favourite pre-loved children's picture book and exchange for someone else's. (**fairplay terms and conditions apply).
For more information: www.madamebrusselslane.com.au
Madame Brussels Lane is proudly owned by ISPT. This retail precinct was constructed by ISPT in 2006 and adjoins the A Grade commercial building, The Urban Workshop, located at 50 Lonsdale Street, Melbourne.