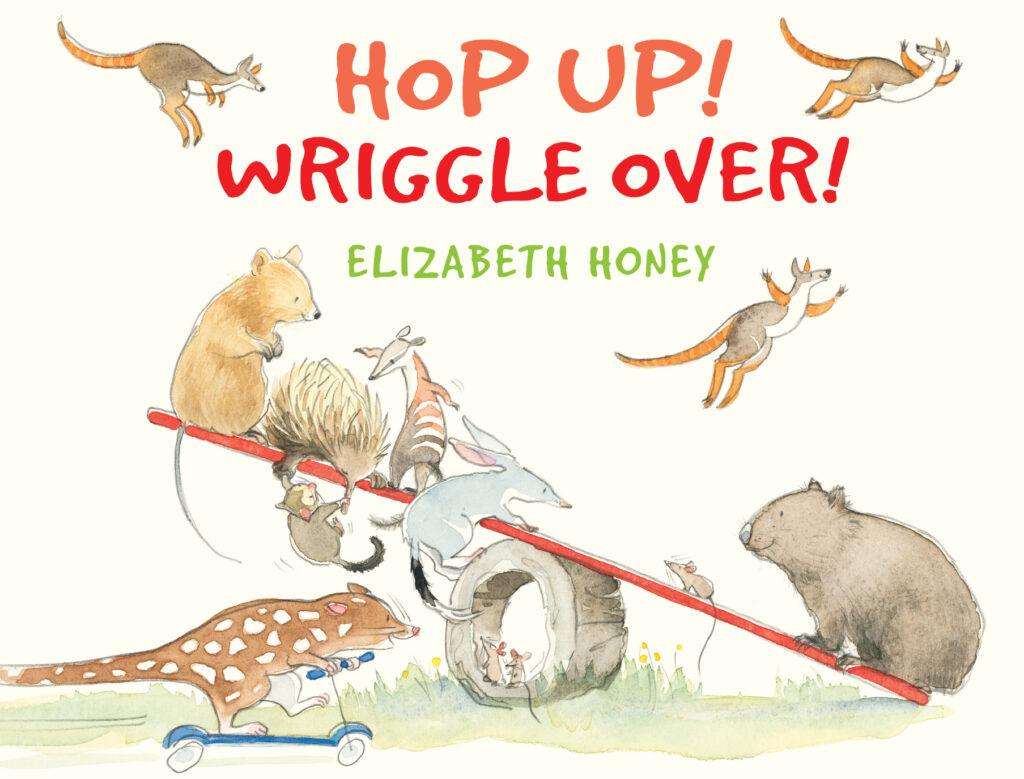 Elizabeth Honey,  Hop Up! Wriggle Over! Allen & Unwin,  May 2015,  40pp.,  $19.99 (hbk)  ISBN 9781743319987
A lovely new picture book from award winning author/illustrator Elizabeth Honey about a day in the life of a unique Australian (animal) family.
It isn't often you see traditional line and wash used so confidently nor a picture book where illustrations truly lead the storyline. Text is reduced to single exclamations and action phrases that give you space to interpret and imagine the mischievous young characters' conversations as they bump and giggle their way through the day.
Beautifully executed loose watercolour describes texture, colour and expressions of quoll, quokka, echidna, antechinus, numbat, wombat, bilby and possum who are looked after by koala and kangaroo.  Anthropomorphism at its best, with characters that are energetic and believably childlike whilst demonstrating  the artist's natural history observation.  They go through a pre-schooler's routine: wake-up, have breakfast, cycle to the playground, have lunch, play some more, are welcomed home by a gorgeously red 'parent' kangaroo, do some gardening, make and eat tea and then get ready for bed.  Gentle reminders throughout the spreads that life can be simple, fun and environmentally friendly.
The title page gives a who's who with size comparisons for each creature, something I found particularly fascinating and kept turning back to.
reviewed by Liz Anelli