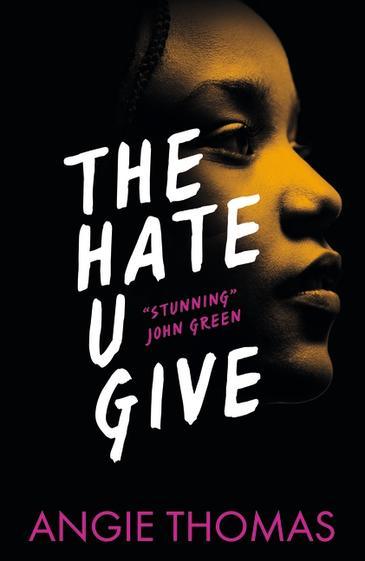 Angie Thomas, The Hate U Give,  Walker Books Australia,  1 March 2017,  448pp.,  $17.99 (pbk),  ISBN: 9781406372151
Even before The Hate U Give by Angie Thomas was released it was getting huge amounts attention. First there was the bidding war between thirteen publishing houses for the privilege to publish it and then a constant stream of support for the issues the book deals with. Inspired by the Black Lives Matter movement, Thomas wrote her story in response to the growing number of black men being harmed at the hands of the police.
'People like us in situations like this become hashtags, but they rarely get justice. I think we all wait for that one time though, that one time when it ends right.'
The Hate U Give tells the story of sixteen-year-old Starr Carter who is the only witness to the fatal shooting, by a police officer, of her childhood friend Khalil. When it's revealed that Khalil was unarmed, a swathe of protests and violence rock the community. This is further fueled by the media's portrayal of Khalil as just another thug drug dealer and gang member to somehow suggest that his life matters less or that he somehow deserved his fate. Starr, who manages a strict balance between two worlds, that of the poor, black community where she lives and the posh, nearly all white, high school she attends, is left to decide whether to speak up and try and get justice for Khalil. Either way she risks losing friends, her carefully cultivated identity and maybe even her life.
This is one of those rare books that manages to tackle inflamed, raw issues with skill, balance and honesty while still producing a banging great story. I found myself constantly marvelling at how rich and vivid this book was. How authentic and raw.
Thomas' writing is strong, unique, and dripping with African-American culture and insight into the life of a black teenager. She threads her story so well that it speaks to almost everyone, without shying away from the issues of racial prejudice or watering down its complexity. While it oozes heart and is filled with poignant messages it does so without being preachy and also uses humour to great effect.
If you are looking for a book that is rich, complex and relevant, AND a great read then The Hate U Give ticks all those boxes. I recommend everyone over the age of 15 read it. You won't regret it.
Reviewed by Renee Mihulka