Juliet M Sampson (text) and Karen Erasmus(illustrator), Grace's Mystery Seed, Ford Street Publishing, March 2019, 32 pp., RRP $24.95 (pbk), ISBN 9781925804201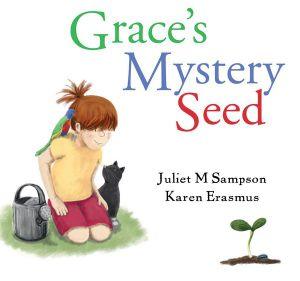 Grace is a keen helper in her elderly neighbour's garden. One day, Grace asks Mrs Marino about the identity of a mystery seed. Rather than telling the answer, Mrs Marino shows Grace how to plant the seed to find out for herself. Through Show-and-Tell at school, Grace shares her passion and adventure with her friends and classmates. In time, she discovers the solution to her mystery, and gets the whole community involved.
Juliet M. Sampson is a primary teacher and award-winning author. There is much to enjoy in her charming story – a mystery to keep the pages turning, information about how to grow plants from seeds, characters of diverse ages and ethnic backgrounds, and the promotion of healthy outdoor activity.
Karen Erasmus has created lovely illustrations that perfectly complement the story's classic charm.
As well as being a great read, Grace's Mystery Seed could be used to introduce gardening and outdoor education concepts to primary school students. Hopefully it will also encourage children outside to solve some mysteries of their own.
Teacher's Notes are available to download on the publisher's website.
Reviewed by Julie Murphy