Jory John (text), Lane Smith (illustrator), Giraffe Problems, Walker Books Australia, October 2018, 32 pp., RRP $24.99 (hbk), ISBN 9781406383164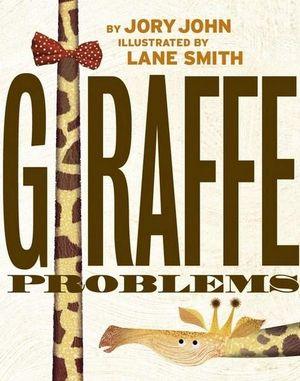 Following the absolutely genius, Penguin Problems by Jory John and Lane Smith, in saunters Giraffe Problems; a tall account of complaints from two very different creatures learning to love the bodies they were gifted.
Funnily enough, Edward the Giraffe thinks his neck is, well, too necky. He is self-conscious and tries to cover it up as best as possible. He constantly compares himself to others and has doubts about his place in the world. Sounds like some common issues many of us constantly face. But upon meeting Cyrus, a whinging tortoise with a grievance for his physical shortcomings, and a hankering for a lone banana high up in a tree, it doesn't take long for Edward to realise the benefits of his own physicality. It's a sweet ending with a lesson in self-acceptance, friendship and recognising the best in one another.
The illustrations are stunningly unpretentious, textured, humorous and energetic, clearly matching the dry tone and depth of the narrative. It is quite wordy as a read aloud but equally engaging to take on the characterisation of two characters' dialogue. The flip out pages interweaved also add to the interactivity factor.
Giraffe Problems is a comical tale of believing in yourself and making the best of what you've been given, with that subtle sarcastic wit that we love. A great companion to its predecessor for ages four and up.
Reviewed by Romi Sharp