Valanga Khoza (text) and Matt Ottley (illustrations), Dumazi and the Big Yellow Lion, Scholastic Australia, September 2019, 32 pp,. RRP $24.99 (hbk), ISBN 9781742994116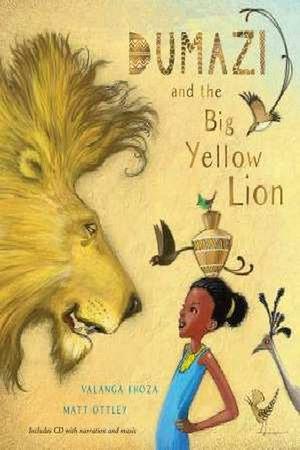 Dumazi is a young girl out for a walk to get water from the local waterhole, when she comes across a ferocious lion caught in a trap. He asks her to free him and promises that if she does, he won't eat her. After the kind girl frees him, he breaks his promise and threatens to eat her. Can Dumazi escape from the lion?
Khoza and Ottley have created a lovely spin on the traditional tale of the duplicitous lion and the clever creatures who outwit him in the end. Children will enjoy predicting Dumazi's fate, and then revel in the quick thinking of the helpful monkey. The choices of the young girl at the end will provoke discussion and questions around the themes of empathy, kindness and mercy.
Ottley's illustrations play with scale and perspective – I especially enjoyed the long long neck of the giraffe, leading to her quizzical expression peering out at the reader. The use of light and shadow is also well done, showing the lion's darkness and Dumazi's light.
Teachers, parents and librarians could use this book to talk about environmental justice, kindness and mercy.
This book also comes with a CD of narration and a musical performance by the creators.
Reviewed by Madeleine Crofts