Mac Barnett (text) and Jon Klassen (illustrator), Circle (The Shapes Trilogy #3), Walker Books, March 2019, 48 pp., RRP $24.99 (hbk), ISBN 9780763696085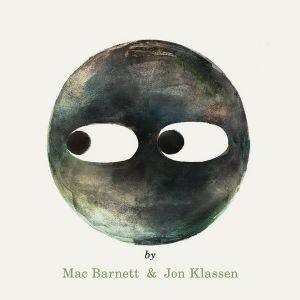 The third and last instalment of the "shapes" trilogy, Circle is a book about friendship and confronting fear. A subtle narrative, the personalities of the shapes are revealed through dialogue and action. The friends Circle, Square and Triangle play hide and seek near Circle's waterfall.
Negotiation and loyalty are displayed by Circle who adapts to changing rules of the shapes' game. Against the rules, Triangle has hidden behind the waterfall. Circle displays bravery in seeking Triangle despite the broken rule.
The darkness behind Circle's waterfall is dark and deep. Who owns those unknown eyes lurking there? This scary situation causes the shapes to run away.
The American creators Mac Barnett and Jon Klassen have provided a book that cuts across cultures—although the use of the word "neat" in dialogue immediately alerts us to their US origins. Sturdy, matte board covers and sewn pages offer an artisan quality to this book. The grey-green tones of the illustrations are sombre, some might say eerie.
This isn't a cheery picture book, but it displays an insight into friendship group dynamics and the simplicity of the illustrations allow the story to rise to the level of universal themes. A fear of the dark is common in children. This book prompts the reader to confront the concept of darkness and to imagine the unknown shape, the owner of the mysterious eyes, dwelling there.
The bogey man can be examined and identified. A fascinating book.
Reviewed by Julie Thorndyke