Peter Macinnis, Australian Backyard Earth Scientist, NLA Publishing, February 2019, 248 pp., RRP $29.99 (pbk), ISBN 978064227934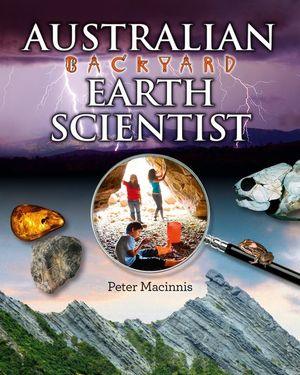 This text is a treasure trove of information about our planet and its elements. Clearly and beautifully produced with an abundance of information and illustrations, Earth Scientist is divided into eight chapters: A short history of Earth, A variable Earth, Rocks, Weathering and Erosion, Water, Weather, The Oceans, and Climate Change. Macinnis steps the reader through the foundations of earth science using photographs, graphics and sidebars. There are 24 adventurous projects embedded into the chapters, covering ideas from mothball crystals to the creation of a frog pond. There's also a contents page, an index, and a list of references. An 'About this Book' page navigates the reader to its contents.
Macinnis puts himself into the text and photos, creating a feeling that he is leading the reader through a science that has taken him all over the world. Many of the photos have been sourced from the National Library of Australia and elsewhere, but the author's images are also apparent, demonstrating his thoughts. There are oodles of Australian examples of the phenomena he writes about in a style that is factual but threaded with his own stories. Highly recommended for readers fascinated with the natural world.
Reviewed by Pam Harvey