Anna Morgan, All That Impossible Space, Hachette Australia, June 2019, 282 pp., RRP $19.99 (pbk), ISBN 9780734419637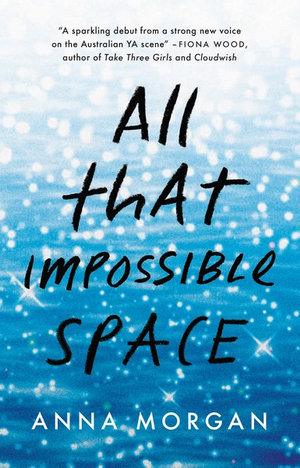 Year ten: new teachers, new students, and is that a crowd of boys milling around the performing arts centre? Anna Morgan's debut young adult novel All That Impossible Space will transplant you back to secondary school from the opening scene: two friends enjoying the last golden afternoon of the summer holidays. The setting is distinctly Australian, indicated by casual references to trams and lattes.
The plot centres around Lara Laylor, a year ten student struggling with the usual secondary school challenges – theatre practice, a new love interest – and some unusual ones: an absent (and self-absorbed) older sister and an engaging new teacher, Mr Grant. After assigning Lara, Ashley and new girl Kate an assignment about the Somerton Man, Mr Grant abruptly disappears. The Somerton Man is a real-life unsolved mystery about an unidentified man found dead on Adelaide's Somerton Beach in 1948. The fictionalised throwbacks about this investigation are fantastic – I suspect every reader will be inspired to do their own research when they finish the book. Lara becomes obsessed with finding out why Mr Grant left so abruptly, and her research begins to mirror the information she is collating about the Somerton Man.
A less deft author may have struggled to maintain coherency, but the author balances them beautifully and rather than being overwhelming, All That Impossible Space is a believable jaunt into the mind and experiences of a teenage girl navigating the complex dynamics of secondary school.
You will cringe as Lara's long-time "BFF" Ashley repeatedly undermines and Lara's self-esteem; their relationship is the pinnacle of toxic friendship, but you will cheer as Kate encourages Lara to find her own voice and place. Details such as Ashley pushing Lara into the annual theatre production – "'[Lara] felt her stomach knot as [she]thought of all the potential awkwardness and the stress of an extra schedule'" and "freezing" Lara out ("There were certain rules to being friends with Ash") – are refreshing in their authenticity. Many young adult novels suffer from authors shoehorning in 'youthful' references, such as clunky references to social media and boy bands. All That Impossible Space suffers no such issues: Morgan's depiction of the exclusive St Margaret's is authentic and the world-class facilities, smattering of obnoxious students and complex social politics are immersive without being stereotypical. Readers will identify with Lara and her concerns without rolling their eyes or feeling they are being lectured.
Teachers will appreciate the book's sensitive and unforced handling of bullying, relationships and boundaries, and could use the book to start discussions about these issues.
The realism of Lara's world, and her gradual and believable character development, are the shining stars of All That Impossible Space; every detail works seamlessly to create a vivid picture of not just Lara's life, but also the mystery of the Somerton Man.
In the tradition of Jaclyn Moriarty, All That Impossible Space is a fantastic new young adult read, with a refreshing streak of mystery (suitable 14+).
Reviewed by Jessica Dowling