Alexandra Penfold (text) and Suzanne Kaufman (illustrator), All Are Welcome, Bloomsbury Children's Books, January 2019, RRP $14.99 (pbk), ISBN 9781526604071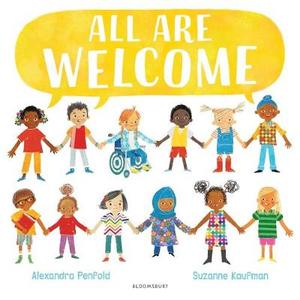 "Pencils sharpened in their case / Bells are ringing, let's make haste. / School's beginning, dreams to chase. / All are welcome here." It seems ironic that this picture book from Seattle comes to us at a time when the USA is less than welcoming to the variety of adults and children drawn on these pages. Black, brown, yellow or pink, turbaned, hijabed, curly haired or straight, children happily sit beside each other. There are no disputes in art or music, stories from around the world are told in the classroom, food from everywhere appears at lunch, and there is lots of fun in the playground.
Each page has a couplet which repeats "All are welcome here", and on the last few pages all are given a place and a space.
It is profusely illustrated, with differences indicated with clarity. Here is a child in a wheelchair; a girl praying on a prayer mat, a boy with spectacles, a lesbian couple picking up their daughter.
Diversity is celebrated and greeted with open arms, with the end-papers shouting "Welcome" in many languages. Remember? We are one, but we are many.
Reviewed by Stella Lees