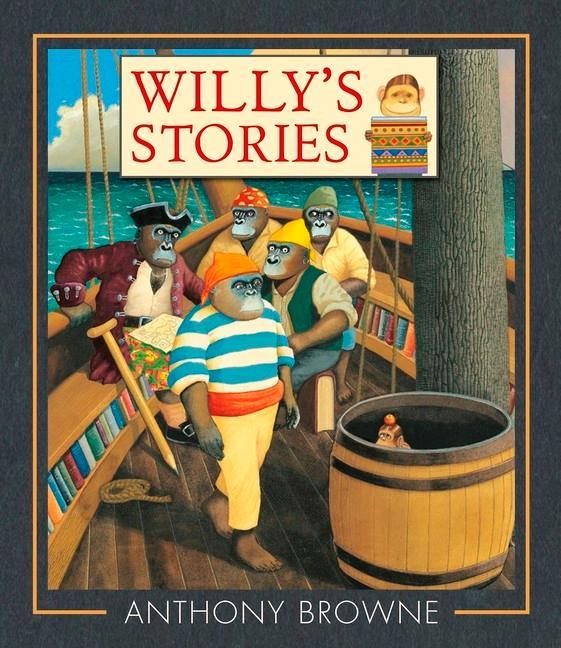 BROWNE, Anthony Willy's Stories Walker, 2014 unpaged $24.95 ISBN 9781406351613 SCIS 1671760
After a long illustrious career as one of the world's premier children's book creators, Anthony Browne pays tribute to 'all the great writers and illustrators who have inspired me to make picture books'.  Willy's Stories is a paean to those books and characters that remain indelible in our memory, those books that constitute the literary heritage of childhood.  He has reprised his famous little alter ego to take the reader on a journey of imagination, discovery and adventure into the world of those wonderful, timeless stories.
Open the covers, absorb the invitation of the marbled endpapers, and follow Willy through a pair of doors into a brilliant prospect of adventure.  He tells his readers that 'every time I walk through these doors something incredible happens.  I go on AMAZING adventures …' Indeed they are.  The first adventure has him walking along a beach on a desert island, parrot on his shoulder, hatchet in his belt, musket in his hand.  With a little characteristic trepidation, he has his hand to his mouth pondering a footprint upon the empty beach.  The text on the facing page – which aptly opens with a quaint decorative dropped cap – has him recount the moment.  Then he poses the reader a question: 'Whose footprint do YOU think it was?'
And so it goes; Willy squarely in the adventures of Treasure Island, Robin Hood, Peter Pan, Alice in Wonderland, The Wizard of Oz and other great stories that have delighted generations of children.  Willy's literary journey ends with his invitation to readers to strike out on their own, take up a book and travel and adventure.  The book closes with Willy back in his familiar green corduroy trousers and variegated vest carrying the pile of featured books, perhaps back to the library shelves amply satisfied from his literary adventuring.  A marvellous inspiration for everyone to indulge the imagination and find delight and wonder in stories.
reviewed by Kevin Steinberger