Bernadette Green (text) and Anna Zobel (illustrator), Who's Your Real Mum?, Scribble, March 2020, 32 pp., RRP $24.99 (hbk), ISBN 9781925849493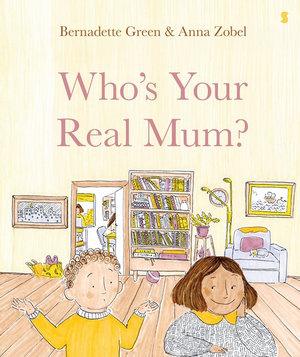 The title sets a question that children from same sex and blended families will commonly experience and the book shows good coping strategies. Elvi does not want to satisfy her best friend's curiosity about which of her female mums is the biological parent. To do so would make assumptions about her family that are none of his business. The dialogue between continues all day as they play at home and out in the park. Elvi finds increasingly imaginative fantasies to fend off Nicholas' angles of interrogation – each, perhaps with origin in her family's games and stories, showing a lovely child's eye portrait of parents. Eventually she makes it plain what is important. This picture book does a great job in showing how to evade a question without being rude, bringing light to the truth that some do not need answering.
Rendered in ink and Copic marker, the illustrations shift between orange and blue palettes to distinguish between fact and fantasy. A great basis for conversations on family, humour and friendship. 
Reviewed by Liz Anelli