Jorg Muhle and Catherine Chidge (translator), Two for Me, One for You, Gecko Press, August 2019, 32pp., RRP $35.99 (hbk), ISBN 9781776572397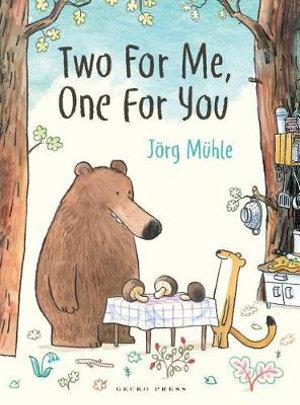 This is a delightful picture book about two friends, Bear and Weasel, living very harmoniously together, sharing their chores with good humour, in their neat home (without walls) within the forest. Then comes the inciting incident with Bear dishing up their dinner of three mushrooms: "Two for me, one for you," as the title proclaims.
The argument that ensues threatens to end in unresolved acrimony, until an opportunistic fox seizes the moment – and indeed, the third mushroom. Balance is thus restored: the friends are stunned into a common horror, before finally enjoying their wonderful meal.
Author and illustrator, Jorg Muhle, fills his pages with beautiful details of the forest, the friends, and their home, leaving plenty of white background. The illustrations are gently comical, in the pastel colours of a friendly forest, and flow across the endpapers. The details are full of wit and whimsy, bound to have the reader ducking back and forth, and emitting laughter and exclamation at the conduct of Bear, Weasel and Fox. As the final page reveals their dessert of three strawberries, I swear I could hear the screams of my imaginary audience.
Muhle is known for his Rabbit series of board books, as well as illustrating for other authors over the years. Originally published in German, I doubt there is anything lost in translation here.
Reviewed by Marita Thomson