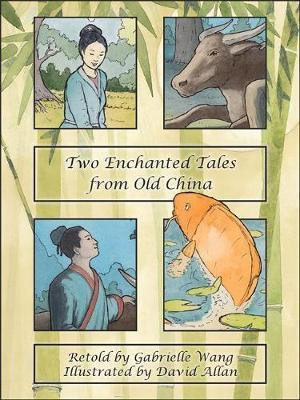 Gabrielle Wang (text),  David Allan (illus.),  Two Enchanted Tales from Old China,  Christmas Press,  Sept 2017,  32pp.,  $17.99 (pbk),  ISBN: 9780994528025
In the final installment of the Two Enchanted Tales series, ancient Chinese folklore is the focus. Readers are treated to two magical tales — The Weaver Girl and the Cowherd and The Magic Fishbones — that tell stories of young love and a girl who becomes the belle of the ball. In gorgeous retellings, complemented by elegant illustrations, Two Enchanted Tales from Old China is another Christmas Press book to treasure.
In The Weaver Girl and the Cowherd, love finds a way to conquer all in the celestial world. When two stars fall in love, the Heavenly Empress separates them for good. But the young maiden finds her true love on Earth and they are reunited. All is well in the mortal world until the Empress wants the maiden back and creates a divide that keeps the two apart, again allowing them to meet only one day each year. Two stars in the Milky Way are named after the protagonists in the story: Vega, the weaver girl and Altair, the cowherd.
The Magic Fishbones is a Cinderella story set in ancient China. With the help of a magical fish, the young heroine becomes transformed in time for the Winter Solstice Festival and captures the heart of the king. When she's discovered, however, she rushes home and loses her golden shoe on the way. The king eventually finds her and makes her his queen, while the power of the magical fish imparts great wealth on them.
These two wonderful stories bring young readers a taste of classical folk tales complete with old world charm and fable-like lessons. While some scenes feel a bit mature for the youngest readers, the stories are beautifully told and are an interesting contrast to modern storytelling. The soft illustrations are perfectly suited to the stories and, together with the gorgeous font, create a beautiful book cover to cover.
Reviewed by Stephanie Ward