Nick Bland, The Very Super Bear, Scholastic Australia, November 2019, 24 pp., RRP $17.99 (hbk), ISBN 9781743831267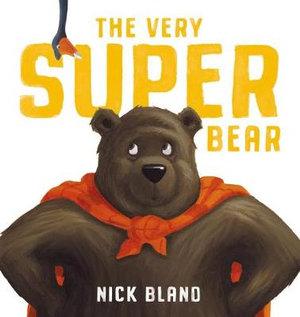 Our favourite bear is back again!
A monster is about in the jingle jangle jungle and who better to save the day than a very super Bear!
Coming to the rescue of Bruce the Goose and friends, Bear embarks on a hilarious mission to save the jungle from a hungry, yellow monster.
Will Bear and his super cape manage to rid to the jingle jangle jungle of the troublesome monster?
The Very Super Bear takes us on another fun-filled adventure with Bear and friends and explores the meaning of friendship and caring for the trees in our beautiful environment.  
Nick Bland's distinctive voice shines through with clever rhyme, creating an entertaining tone throughout the book, and encouraging a fantastic read aloud experience—perfect for pre-schoolers and kindergartners. The animated illustrations throughout are as humorous as ever and perfectly complement the rhyming text. 
Nick Bland is a favourite and it's not hard to see why. The Very Super Bear will have you laughing along with Bear and his jungle friends!
Reviewed by Shelley Stephens