Pierre-Jacques Ober (text) and Jules Ober & Felicity Coonan (illustrators), The Good Son: A story from the First World War Told in Miniature. Candlewick Studio, May 2019, 104 pp., RRP $34.99 (hbk, large format), ISBN 9781536204827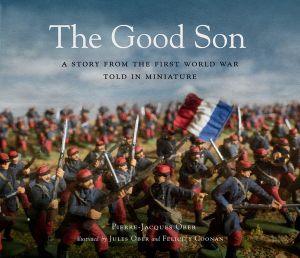 This is a powerful illustrated story based upon a factual incident during the First World War. Though it might seem to be co-opted as a story with a simple anti-war message, it is much more than that. This is a tale of men trapped in situations where their individual wills and even their individual lives are subject to decisions made by those in power who act for a greater cause or a wider vision. At the beginning of the book, the soldier Pierre, who is at the centre of this tale, is facing court martial and execution on the battle front because he stayed at home for two days beyond his leave in order to be with his mother over Christmas. And now that he has returned to his battalion, expecting to fight with them, he has been arrested. He must become an example to the others of what is in store for anyone who does not rigidly keep to military discipline. This is the kind of example demoralised soldiers must apparently witness, if they are to continue to submit their lives to enormous risks in such a war as this.
There is more to the story than this incident, creating layers of irony and tragedy and human pathos—offering us much to reflect upon and struggle with as we find ourselves deeply disturbed by the unfolding events.
The book is remarkable too, for the way it has been produced. Small plastic figures in scaled landscapes have been shaped to create tableaux of each incident and moment important to the story. Then these scenes have been photographed using a shallow depth-of-field, which creates luminous and highly charged effects. We do not feel out of place for having deep and strong emotions as we look at these scenes. The text is minimal, and runs below the images on each page. Often just one short sentence is enough to move the story along. This superbly restrained approach to the telling of the story helps to keep our focus on the experiences of the characters, and invites us to imagine their lives as fully as we can.
Parents should be warned that this tale (like many of the Grimms' Fairy Tales) does not have a happy ending, so might require some quiet and calming discussion afterwards. Highly recommended for children 8 to 14, and anyone interested in the real history of real war.
Reviewed by Kevin Brophy