Robert Vescio (text) and Joanna Bartel (illustrator), The Art of Words, EK Books, April 2021, 32 pp., RRP $24.99 (hbk), ISBN 9781925820843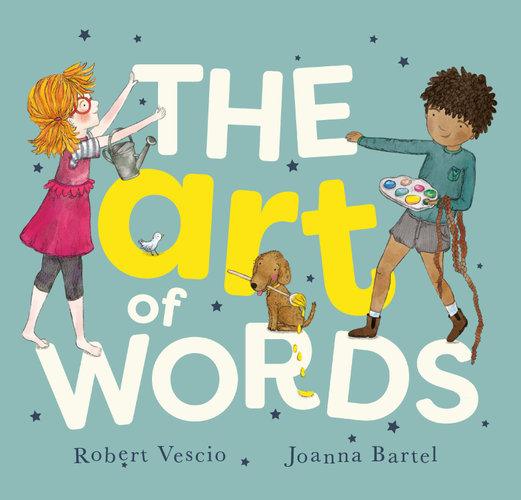 The Art of Words is a visual feast and joyful celebration of those wonderful things called words. Children will enjoy the playful exploration of this topic in this beautifully illustrated book.
Robert Vescio highlights some of the many things that words can be: big; little; colourful; ugly; shortened; extended; reversed; stand for something else; brilliant and plain. Also, how they can be used with punctuation, created; collected but best of all strung together to make stories.
In my opinion though, the book really shines with its delightful illustrations by Joanna Bartel. Her colourful and detailed work quite literally depicts the features of the words – 'ugly words' are brown and muddy and being shoved in the garbage bin, 'shortened words' are being cut in half with a pair of pruners, whilst 'extended words' are being pulled like a tug of war rope. These playful impressions are sure to be enjoyed by children from the age of six up, perhaps even younger.
The book is a great learning resource that introduces a wide range of literacy concepts to children (e.g., when to use punctuation, acrostic poems, adjectives) and each concept is completely ripe for further exploration with readers, either at home or in a classroom. For instance, children could come up with their own list of 'Colourful' words. There are also teacher's notes available for further ideas.
The Art of Words is a really playful and clever book that makes words and literacy fun and creative. Its exploratory and imaginative emphasis could even inspire young children who may currently be reluctant readers or writers.  
Reviewed by Julie Bertola