Claire Saxby (text) and Mark Jackson & Heather Potter (illustrators), The Anzac Billy, Black Dog Books, April 2019, 32 pp., RRP $24.99 (hbk), ISBN 9781925126815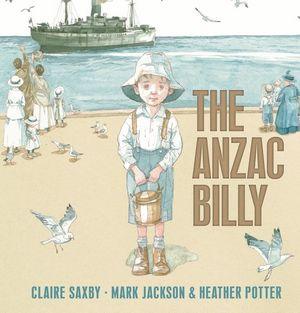 In the publicity notes which come with this picture book we are told that families were encouraged during World War 1 for to pack a billy with gifts to send to soldiers overseas. That is what our young hero is doing in this gentle story.
It is Christmas time. From a bar of butterscotch to paper and pencil, the small boy, his Nana and his mother add to the billy's contents, sending it on by ship to his faraway father. They know it may not be their billy that their soldier receives, but our boy asks for it to be sent on to the one he loves.
In soft sepia we see the times: when life in the bush without electricity and modern domestic appliances was a little harder, but relationships in the small town were closer; when grandmothers wore shawls, and all men wore hats. There is a contented atmosphere in this home, despite the poignant overtones of the missing father. Although he never says it, it is clear that the son longs for his Dad's return.
There is a tender voice in Saxby's text, an appealing boy at its centre, and an authentic setting.
Reviewed by Stella Lees